7.7%: The Lowest Unemployment Rate of Obama's Presidency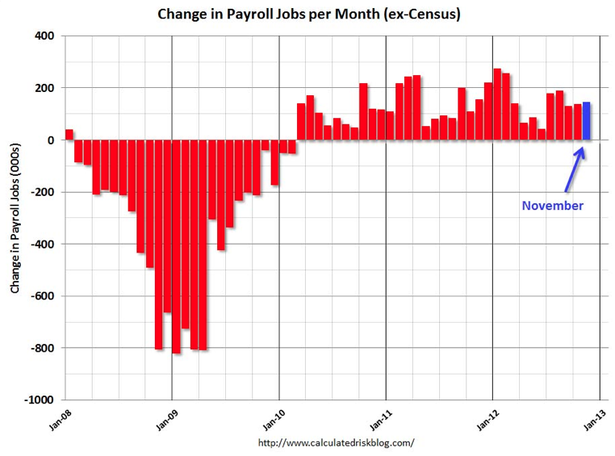 The unemployment rate in November fell to 7.7%, the lowest since the last full month of President George W. Bush's presidency. The economy added 146,000 jobs (97,000 if you count revisions to the last few months). That's basically equal to our 2012 average of 157,000 net new jobs per month ... which is basically equal to our 2011 average of 153,000 net new jobs per month.
Yes, this was a pretty average jobs report. But if the numbers hold -- in light of Hurricane Sandy and the fiscal cliff and trouble with manufacturing in response to iffy global demand -- this pretty-average report amounts to better-than-average news for the economy heading into 2013.

Beneath the roiling month-to-month numbers, the last two years have seen static, calm, and steady growth. The economy expanded by 1.8% annually for 24 months while we gained 150,000 jobs per month across eight seasons.

The Bureau of Labor Statistics produces this report from two separate surveys. The jobs-added figure comes from a survey of firms. The unemployment rate comes from a survey of households. While today's jobs-added figure was a pleasant surprise, the unemployment rate fell for a more disturbing reason. Half a million people left the workforce.
Why is our workforce shrinking even as the number of workers are growing? That sounds like a paradox. It's more like a simple math problem. America is getting older. More people are retiring as a share of the economy, because the boomer generation is bigger than the younger Generation X. Add to that the long-term trend of men working less -- read Jonathan Rauch on the decline the middle-class man -- and the continued weakness of the economy that might be discouraging some able-bodied men and women, and you've got your answer.