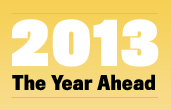 Atlantic writers preview the stories, trends, and ideas to watch.
See full coverage
If you invested based on The Atlantic's business predictions for 2012, it turns out you could have made a tidy little return. We said Bank of America's stock would bounce back from its woeful 2011 lows, and look: The stock price just about doubled! We guessed that Europe would avoid disaster, and hey, no Grexit! True, Microsoft didn't actually turn out to be the company of the year, as we envisioned, but they tried pretty hard with Microsoft 8 and Surface (and their stock stayed just about even).
So with all that said, we're going to continue our tradition of mixing together some bold and (maybe) outlandish bets in with a few more reasonable forecasts. Because nobody ever got rich without taking a risk, right?
We want to hear what you think about this article. Submit a letter to the editor or write to letters@theatlantic.com.