Why the World's First Billion-Dollar Athlete Is Just a Few Years Away
The new economics of television are turning big-market sports teams into multi-hundred-million-dollar powerhouses. Get ready for the world's first billion-dollar contract.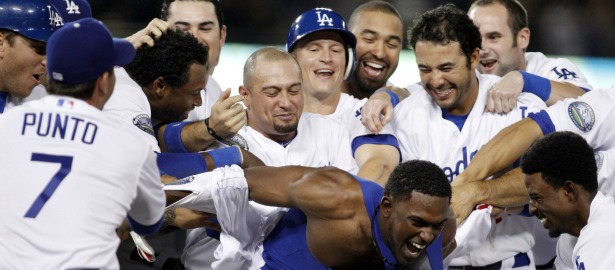 Reuters
Just as TV economics are transforming college football and creating new winners and losers, they are about to do the same in baseball, further widening the payroll gap between high and low-spending teams. Sometime in the next few years, it produce something astounding: The first billion-dollar player.
Reports surfaced on Monday that the Los Angeles Dodgers are close to signing a 25-year television deal with Fox worth between $6 and $7 billion, paying the Dodgers $280 million a year, up from the current level of $40 million. This follows a deal Fox signed with the Los Angeles Angels in December that will pay them nearly $150 million a year, and a deal that the YES Network has with the Yankees that will grow to $350 million a year by 2042.
One thing we know about professional sports teams is that as revenues grow, payrolls increase commensurately. Unsurprisingly, Dodgers President Stan Kasten recently said, "I am focusing on building the best team we can be...and where exactly the payroll will be, we'll worry about that later." Their 2013 salary commitments are already double the team's opening day payroll from this past year.
What does this mean for the free agent market? For the time being, baseball's free agent market is thin. Teams adopted "Moneyball" approaches to contracts based on the economic landscape of the past decade, with small market teams signing their promising young players before they could become free agents. The Tampa Bay Rays signed Evan Longoria to a six-year contract 6 days after calling him up from the minor leagues in 2008. Young players and their agents had an understanding of what free agents in their late 20's could make. Fearing that they might not turn out to be great MLB players, they were willing to trade some future opportunity in exchange for a more certain payoff.
Mike Trout, 20, and Bryce Harper, 19, aren't just the reigning Rookies of the Year. They also just had the most impressive years in recent memory for any player for their respective age. Both players become free agents within the next six years. Both players -- especially Harper, a lifelong Yankee fan who's represented by baseball super-agent Scott Boras -- are likely to set the bar for player salaries. The same way some tech companies waiting for Facebook to go public to drive up IPO prices, you can bet other young players will be watching to see what a splash these players make when they hit the market.
$252 MILLION ISN'T COOL ...
So, what could Harper and Trout fetch?
Let's start with Alex Rodriguez, who signed a then-record $252 million contract with the Texas Rangers in 2000. At the time, the Rangers' annual revenues were $134 million. In other words, the average annual value of Rodriguez's contract was almost 19% of the total revenues of the Rangers in his first year with the team. The deal's total value was more than double what anyone had gotten before.
What will the Dodgers' revenues look like in five years? In 2011, a sluggish economic year with a lot of internal turmoil for the Dodgers, the team was on pace to generate $240 million in revenue, which was down $40 million from two years earlier. Non-television revenues were around $200 million. Add $280 million from the new TV deal and the Dodgers are already projected to push $500 million. With a better team, a better national economic environment, inflation, and continued growth from online and possibly international revenues, it's possible that in five years the Dodgers (and presumably the Yankees) will be looking at annual revenues close to $600 million, almost 350% more than the Texas Rangers collected in 2001.
It's almost guaranteed that should Harper and Trout hit free agency, they will seek max contracts. The longest contract ever is 11 years, for Todd Helton. Let's say these wunderkinds try to tie the record. If Rodriguez could eat 19% of the Rangers' total revenue in 2000, Harper and Trout would have grounds to ask for 16% of the Dodgers' or Yankees' much larger pie in 2018. That's $96 million a year.
And $96 million per year, for 11 years, surpasses $1 billion.
GET 'EM WHILE THEY'RE YOUNG
Even if Trout and Harper don't break a billion, their contracts will still set records, putting even more pressure on small market teams to lock up prospects before they've justified mega contracts. Perhaps in 2017 the Tampa Bay Rays will sign "sure thing" draft picks to $75 million deals that buy out their free agency years through age 30 before they've played a day in the major leagues.
Arguably, that's what has happened with tech startups in the private markets over the next few years. Venture capitalists, worried that they'll miss out on the next Facebook, are willing to overpay in Series A and Series B rounds, afraid that they won't get another chance to buy at a reasonable valuation. Whether or not it works out remains to be seen, but in a world with great disparities between winners and losers, "get 'em while they're young" isn't a crazy philosophy. It's just sound market logic.
>