The 401(k) Is a $240 Billion Waste
Why subsidize retirement saving if the subsidies don't work?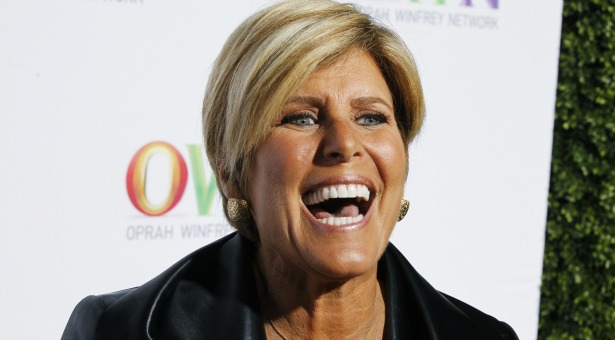 (Reuters)
Imagine there were no 401(k)s. You wouldn't stop saving for retirement, right? Right? Don't worry, I won't tell Suze Orman. Not that CNBC's personal finance guru would get mad at you -- according to a new paper, most households wouldn't sock away any less for their golden years if we eliminated 401(k)s. Which raises a $100 billion question...

Why subsidize retirement saving if the subsidies don't work?
As far as tax expenditures go, the one for retirement savings is a biggie. Remember, "tax expenditure" is just econospeak for the various deductions, exclusions, and preferential rates -- in other words, subsidies -- that litter the tax code. According to the
Congressional Budget Office
(CBO), excluding pension contributions and earnings from taxes will cost us about 1.2 percent of GDP over the next decade, or an average of $240 billion a year. That's a lot of spending -- that's what tax expenditures are, just disguised spending -- without much bang for the buck. Maybe just a penny's worth.
In fact, one penny's worth is exactly how much extra saving a dollar's worth of retirement subsidies produced in Denmark, according to the
recent paper
by Raj Chetty and John N. Friedman of Harvard, Soren Leth-Petersen and Tore Olsen of the University of Copenhagen, and Torben Heien Nielsen of the Danish National Centre for Social Research. In other words, we might be spending $240 billion to get people to save $2.4 billion more.
But don't the trillions of dollars in 401(k) accounts tell a different story? Not necessarily. There isn't enough data for the U.S., but Chetty et. al. looked at the numbers for Denmark, which has accounts similar to our 401(k)s, to examine how much more incentives to save get us to save. The first chart shows how much households contributed to tax-preferred accounts after subsidies increased and the second chart shows how much they contributed to non-tax-preferred accounts, again after subsidies increased. It's a bit hard to see, but the decrease in the latter almost completely offsets the increase in the former -- households saved an average of 1 cent more.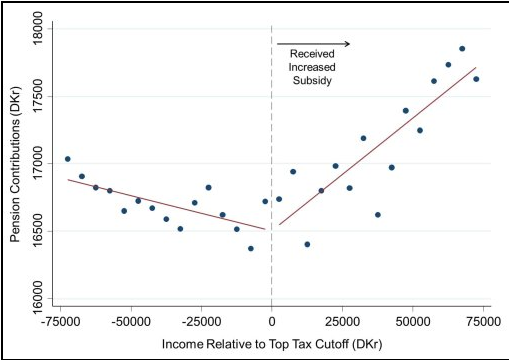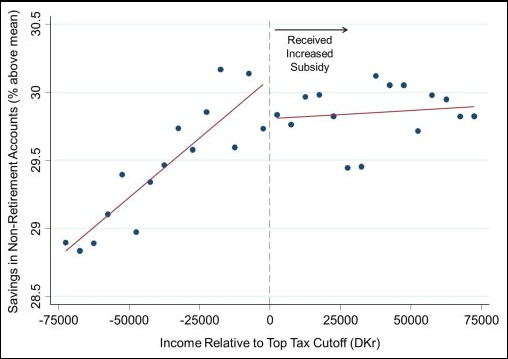 Households save where the subsidy is, but don't save more because of the subsidy. It turns out the best way to get households to save more is ... to make them save more. In other words, automatically take a percentage of each person's paycheck and put it in a retirement account, as a default. If this sounds familiar, it's because that's how the payroll tax works -- except it's how you think the payroll tax works now. There's a misconception that the money the government withholds from you every month ends up in an account with your name on it that eventually becomes your Social Security benefits. It doesn't. The money the government withholds every month pays for current retirees, which is why the system needs some kind of tweak over the next few decades as the Boomers retire.
A system of forced, or nudged, saving wouldn't replace this social insurance, but rather the wasteful dinosaur that is the 401(k). It's mostly the well-off, who have retirement savings to move around, who move their savings to where the subsidies are. The 401(k) doesn't do much if your goal is to get people who don't save much to save more, and it doesn't do this at quite the cost.
We need Suze to tell Congress that we can't afford it.