Greece's Stock Market Is Beating China's in 2012 (Wait, What?)
Here are two simple rules when it comes to investing. First, stay away from countries in the middle of great depressions. Second, steer toward countries in the middle of growth miracles. If you just followed these two rules in 2012, you did, well, terribly.
Look at the chart below to see just how terribly. It compares the Athens (blue) and Shanghai (red) stock markets over 2012, courtesy of
Also Sprach Analyst
. That's the Greek market up 20 percent on the year and the Chinese market down 10 percent. Which country's economy just collapsed 
7.2 percent
 and which country's economy grew
7.4 percent
in the third quarter again?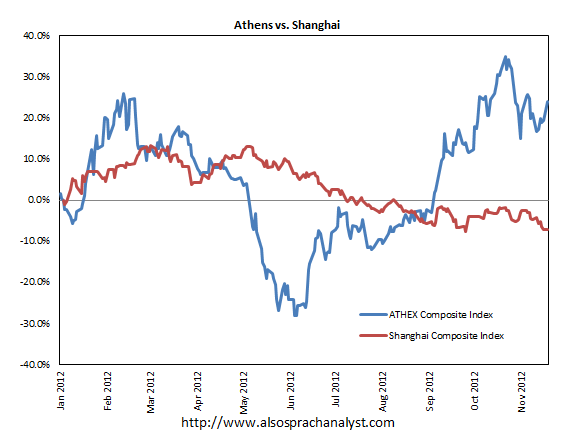 Don't move your retirement money into Greek equities just yet. The Athens index fell 
nearly 90 percent
from its 2007 peak to its 2012 low, before it rebounded in the second half of the year once the threat of an immediate euro exit passed. In other words, it's up off a very low base thanks to politics, not economics. The Shanghai index is down because
Chinese growth, though still strong, keeps sliding down
 from its 2007 peak of 14 percent -- along with sometimes 
shady accounting
at Chinese firms making the markets a sometimes dubious prospect.
How long until Goldman Sachs is touting the PIIGS instead of the BRICs in its investment letters?