Yes, 2,362 Millionaires Got Unemployment Checks in 2009
Bloomberg News reports today that, in 2009, 2,362 people living in households with annual incomes higher than $1 million received unemployment benefits. The stat was plucked from an August Congressional Research Service report that found the country spent around $21 million on these payments, many of which likely went to the jobless spouses and dependents of high earners.
Ridiculous? Probably. Politicians such as GOP Senator Tom Coburn have taken some reasonable legislative stabs at limiting unemployment benefits to those of us who aren't millionaires. But before this figure becomes the latest talking point for those who believe the social safety-net is out of control, I'd like to add a little context. Top 1 percenters receive a tiny, tiny fraction of jobless benefits.
According to the CRS, more than 11 million Americans received unemployment checks in 2009. About 91 percent made less than six figures. Another 7.46 percent took in between $100,000 and $200,000.
Actual benefits were distributed similarly. Of the $83 billion the government spent, more than 98 percent of it went to people in households that earned under $200,000.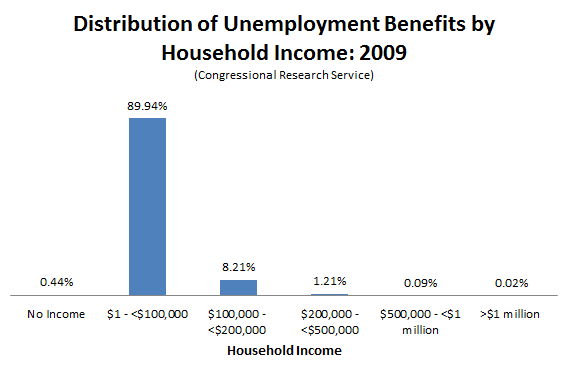 In total, households earning more than $200,000 received about $1.1 billion in jobless benefits. It's not exactly government spending run amok, but that money could probably be better used elsewhere. According to Bloomberg, most of the congressional proposals for means testing the unemployment program have focused on cutting out the millionaires. But if our elected officials actually want to save more than a rounding error's worth of taxpayer cash, they might be better served restricting it even further.