Where Did Your Raise Go? It Went to Health Care
Employees are getting more expensive. But wages aren't rising. What is? Everything else that we call "compensation" -- especially health insurance, retirement benefits and contributions to Social Security and Medicare.
Take health care, alone: Between 1999 and 2012, workers' health care costs grew four times faster than earnings, according to a recent report from the Kaiser Family Foundation. As for everything else, employer-paid benefits have increased from less than 10% of worker compensation in the 1960s to nearly 20% today, according to USA Today.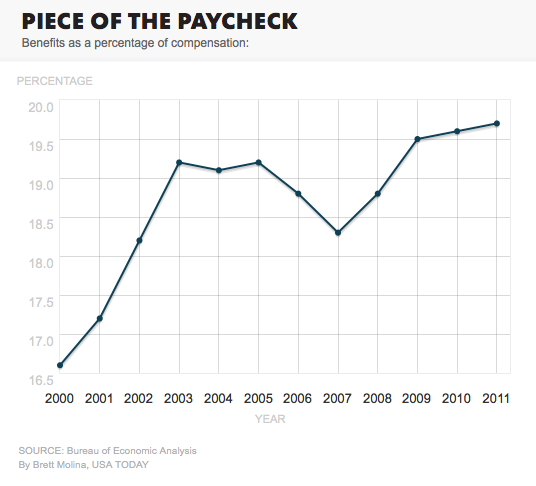 These are aggregate figures, so they might be skewed by extremely expensive employe health care at the top. But there is little doubt that rising medical costs are eating into family budgets from two directions. First, they are forcing employers to withhold more money from wages to pay for health care. Second, they are forcing families to pay more for premiums and out-of-pocket pay. If the monthly cost of medical insurance rises by $100, the worker might to pay $25 more while the other $75-a-month comes out of compensation. Call it a "raise" if you like, but it sure won't feel like it ... unless you get sick.