What Hurricane Sandy Means for Ben Bernanke
The monetary consequences of natural disasters are not what you might think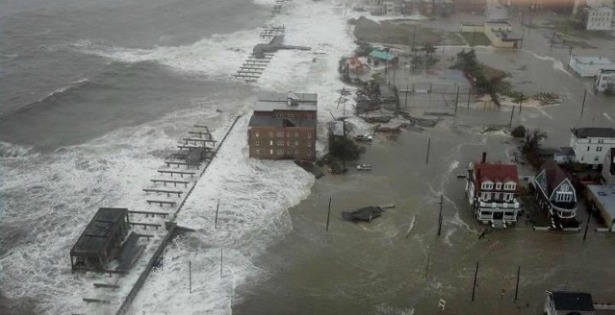 (Twitter/@Occuweather)
The economic consequences of hurricanes are certainly macabre, but no less real. As the super storm subsides and we move from recovery to rebuilding, the question becomes what this disaster means for not just FEMA but for the Fed too.
There's a standard script when it comes to the economics of natural disasters.
Liberals
argue the subsequent rebuilding is a tragic stimulus amid a depressed economy;
conservatives
retort this is nonsense since rebuilding what we had does not make us any richer. Now, it's true that replacing what existed before does not increase wealth, but it does increase medium-term growth, at least when idle resources abound. In other words, it's stimulus of the worst possible sort. But it's not as if we should start hiring people to go around destroying stuff. We'd be better off burying burying jars of money and then digging them back up, as Keynes wryly suggested -- or, you know, hiring people to build stuff.
But if natural disasters are the fiscal stimulus we don't want, they are the monetary stimulus we don't get. It's intuitive that the Fed should cut interest rates to help build back what was lost -- intuitive, but wrong. Large-scale destruction not only means lost lives and property, but also lost productive capacity. Less supply means lower output, but also higher prices -- it pulls the Fed in opposite directions. This
2007 St. Louis Fed
paper argues inflation should pull the Fed more than output, to the tune of a 30 basis point hike after a big disaster. The logic is the Fed should prevent inflationary expectations from setting in until the government rebuilds the lost supply and inflation recedes. This is precisely what happened after Hurricane Katrina -- to the surprise of Wall Street -- as the Fed raised rates 25 basis points. The chart below shows what financial markets
thought
would happen in the days after landfall.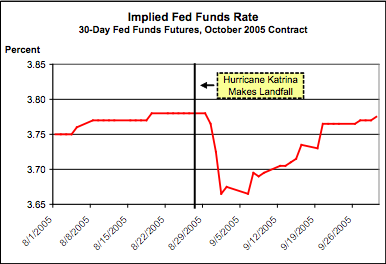 This time, though, is different. Really. The Fed has promised to both keep buying mortgage bonds and keep rates near zero until even after the recovery picks up. The Fed is worried about there being too few jobs than too much inflation. In other words, the Fed won't raise rates now when it normally would. It's an implicit, if morbid, loosening of monetary policy.
It's stimulus we wish we never got.