The New Green Energy Bust You'll Hear About at Tonight's Debate
Battery maker A123 Systems just declared bankruptcy after receiving a $249 million federal grant. Believe it or not, there's a silver lining here.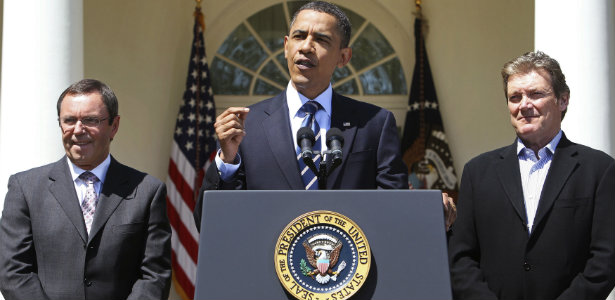 And there goes another one.
After publicly wobbling for months, A123 Systems, the electric-car battery manufacturer that received a $249 million federal grant, has declared bankruptcy. Thus, it can be added to a small but growing graveyard of failed companies supported by President Obama's green energy initiative, right alongside Beacon Power, Abound Solar, EnerDel, and the most controversial of all, Solyndra.
Americans will almost certainly be hearing about A123 during tonight's presidential debate. Last time around, Mitt Romney memorably, if not exactly accurately, wrote off the Obama administration's attempts to foster green industries when he quipped, "You don't just pick the winners and losers -- you pick the losers." In fact, dozens of companies have received loan guarantees and grants from the Department of Energy as part the $90 billion in stimulus funding dedicated to green power. About $813 million actually went to the handful that went bust, according to Reuters. But that won't help the politics of it. Romney's point sounds true enough, even if it's a gross simplification.
Over at WonkBlog, Brad Plumer has a great highlight reel of A123's rise and fall. In short, it started off as a scrappy company with a smart idea for fast-charging lithium ion batteries, cultivated support from both Democratic and Republican politicians, and ran into trouble when the market for electric vehicles failed to materialize as fast as many hoped. It also relied heavily on a single customer: Fisker Automotive, another DOE beneficiary that's had a turbulent time getting its luxury electric sports cars to market. As of July, analysts were already calling its eventual demise.
In bankruptcy, though, A123 may, in its own odd way, be demonstrating both the good and the bad of the Obama green energy program. The entire effort has often been derided as an attempt to play venture capitalist. Yet, A123's automotive business, including its factories in Michigan and Shanghai, is being sold off to Johnson Controls, a leading car battery maker and fellow beneficiary of DOE clean energy grants that, no matter what happens to the electric car market, won't be going anywhere soon. Johnson Controls was one of many established corporations, including automakers such as Ford and Nissan and power companies such as NRG Energy, that received DOE support . Even if all of the smaller, more speculative companies like A123 and Solyndra don't survive, it's possible that these older, stronger companies may provide the backbone of a domestic clean energy industry.
Conservatives might call this a form of corporate welfare (Here, let me build your new clean energy division for you). Liberals, though, think of it as traditional industrial policy of that the sort practiced in Europe and Asia. Instead of nursing young companies with hot, unproven technologies, the government works with larger enterprises to help them expand their reach into strategically important industries. This idea has never had a lot of mainstream currency in the U.S., and the fate of companies such as Solyndra and A123 probably won't help it. But when the final history of the green energy program is written, it's possible we'll find it was successful.