Sandy's Damage So Far: More than $20 Billion
Depending on the full toll in New York, it could be much, much greater.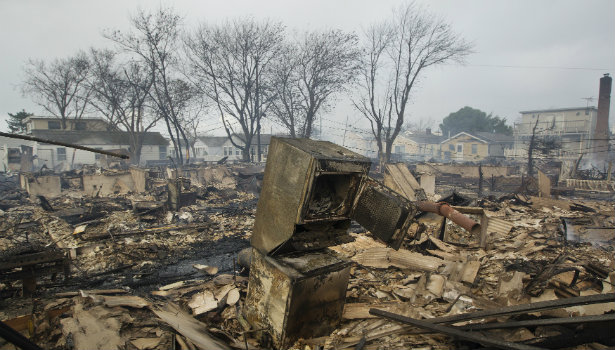 The economic wreckage from Hurricane Sandy will likely total more than $20 billion, according to a research outfit quoted in Bloomberg this morning. Kinetic Analysis Corp.'s Charles Watson told the outlet that the majority of that cost will fall on cities and states as they rebuild damaged infrastructure.
Those figures will surely evolve as authorities get a better handle on the extent of the storm's toll. But to put the losses in some perspective, Hurricane Katrina left behind nearly $100 billion in total property damage. The nine other most destructive hurricanes in U.S. history each left behind between $9 billion and $30 billion in destruction.
The storm has already disrupted the U.S. economy in dramatic ways, paralyzing mass transportation on the East Coast and leaving millions without power. The Associated Press reports that more than 13,500 flights have been canceled already, and New York's three major airports remain shut down.
The storm has also brought to life a potential economic nightmare by flooding the New York City Subway system. In what MTA Chairman Joseph Lhota called the worst disaster in Subway's 108-year history, seven tunnels beneath the East River were inundated. Depending on how long it takes to restore the system, that damage could cause billions of dollars in additional losses. Here's what my colleague Derek Thompson wrote about that possibility yesterday in a piece looking at the economics of hurricanes:
In New York City, perhaps the worst-case scenario is the flooding of the subway system....In the event that the subway tunnels under the Harlem and East Rivers were out for more than a month, the economic cost could be $55 billion, [Klaus H. Jacob, a scientist at Columbia University's Earth Institute,] told the New York Times just this September. That figure alone is equal to half the estimated property damage of Hurricane Katrina -- and more than every other hurricane in U.S. history.
The damage in New York is being felt on a global scale as well. Trading was suspended on the New York Stock Exchange for a second straight day, the first time that has happened since The Great Blizzard of 1888. As Reuters reports, analysts estimate that "exchanges and banks are losing tens of millions of dollars in revenues every day" as a result.
In terms of sheer property damage, Sandy's long-term impact on the national economy could ultimately turn out to be small, or even give a minor boost to growth, thanks to the weeks or months of rebuilding that will follow the storm. Fixing flooded highways and repairing homes, after all, will generate spending and jobs. As one economist explained it to Bloomberg:
"Generally there's a disruption effect and a rebuilding effect," said Mike Englund, chief economist at Action Economics in Boulder, Colorado. "The disruption effect should last about a week, and the rebuilding effect the following three or four weeks. On net, the rebuilding effect exceeds the disruption effect, but only by a small amount. So we might find by the end of the fourth quarter repair would be a small positive."
But while the storm's impact on U.S. economy at large may only be fleeting, places like Atlantic City, where flood waters reached as high as eight feet, could face lasting trouble if residents and businesses don't return. One study estimated that New Orleans lost 190,000 jobs in the months after Katrina, as thousands of victims whose homes were destroyed left for other states, leaving businesses depressed.
We can only hope that no city suffers so awfully from Sandy.