Revenge of the Geeks: The Tech Guys Are Winning the Recovery
Wages are rising faster for tech and IT workers than any other job category, according to a new report from PayScale. And cities with a strong tech backbone are outpacing the rest of the country in wage growth.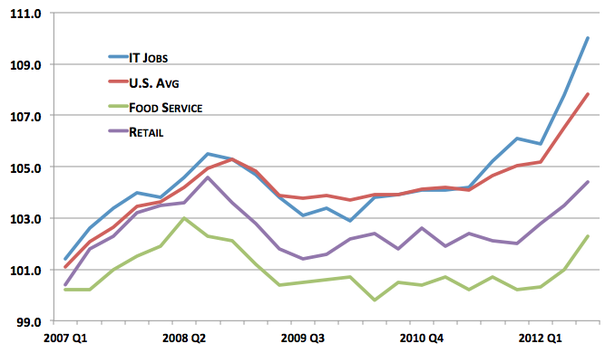 "IT jobs" is a broad category encompassing software developers and help desk specialists, but PayScale said high-skill workers were driving wage growth (which is measured in nominal -- non-inflation-adjusted -- figures). In addition to Houston, which has been the overall victor of the recovery going back to 2008 thanks to its shallow fall in the Great Recession and strong energy-bolstered recovery, tech-strong cities like Seattle and San Francisco have seen especially strong years in wage growth.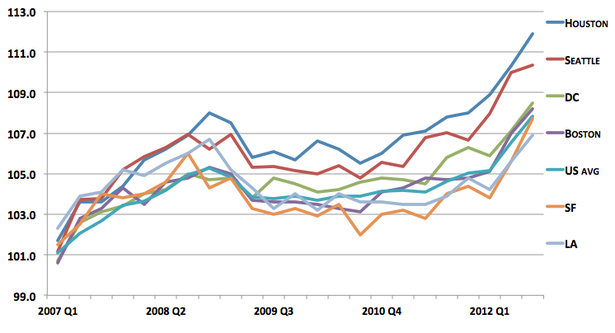 These rising wages for tech geeks comes from a push and pull, said Katie Bardaro, lead economist at PayScale.

The growing Internet economy is the obvious pull. The Internet has supposedly been a drag on growth for the last year, according to official U.S. government figures. But "this is simply absurd," says Michael Mandel, an Atlantic contributor and economist with the Progressive Policy Institute, who recently published a paper on how we dramatically underestimate the size of the data-driven economy. According to his analysis, "real GDP rose at a 2.3% rate in the first half of 2012, rather than the 1.7% official rate." The enormous surge of usage of services like Gmail, Dropbox, Facebook, and Twitter has increased the need for developers, designers, and other software workers.
And the push: America's shortage of software developers is driving up the price of software developers the same way scarcity makes anything more expensive. This shortage is artificial. It is the product of an extremely silly conspiracy of the U.S. government to force smart immigrants to move back to their home countries to "protect" jobs here. There are hundreds of thousands of immigrants from India, China, Eastern Europe, and everywhere else, who want to work in the United States, but cannot because we impose a cap on their visas.
Software developers are a fixture of today's "innovation sector." According to Enrico Moretti's new book "The New Geography of Jobs," this sector builds a products that cane be consumed by millions of people around the country and the world. The wealth from these "tradable" innovations that find a national or global audience helps to create service sector jobs. For each new software team in Seattle, the city requires another doctor, another dry cleaner, and another store clerk, and so forth, to perform their day-in-day-out needs.
>