Newsweek Might Be Doomed, but Newsweeklies Are Not
The failure of Newsweek to survive in print has been received as another sign that weekly news magazines are a dead business. They're not. Just look around.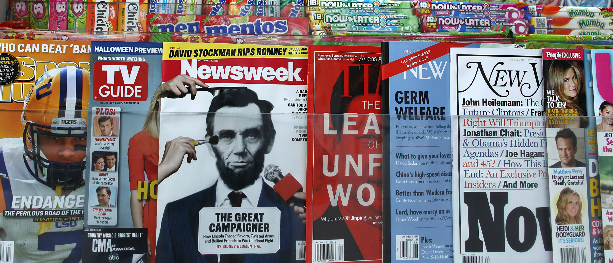 Reuters
The end of Newsweek's print edition has been blamed on many factors, all of which come down to one conclusion: the magazine was losing tens of millions of dollars and its sole owner, Barry Diller (once the family of the late Sidney Harman pulled out), had no confidence that the losses could be turned around. The demise of Newsweek (as we knew it and read it with admiration for decades) is definitely a major development in the digital overhaul of news. But it feels less unique when placed in the historical context of other great magazines that have run their course. In the 1950s, our household received Life and Look and considered them as permanent features for the coffee table and living room armchairs. I was very young at the time, but reading the magazines provided an exciting view of the world. We also subscribed to Time, The New Yorker, and The New York Times.
Life was shut down in 1972, with a circulation of 5.5 million that had been steadily slipping. The magazine was re-launched as a monthly, later as a weekly newspaper supplement, and again for special issues. An Internet site was tried, but that went under also. Its picture archive now resides on Time.com. Look, owned by Cowles Communications, was losing money when it closed in 1971, and it was never successfully revived. But Time, The New Yorker, and The New York Times are still mainstays of national media with widespread readership that has expanded to the Internet and, for all the many ways they are being challenged, they are strong enough for now to maintain the support of their proprietors.
The failure of
Newsweek
to survive
in print has been received as another sign that weekly news magazines are doomed. So, are they really? It is true that
U.S. News and World Report
went online only in 2010 and now is mainly a business for ranking colleges, universities, and hospitals among other institutions. U.S. News editor Brian Kelly 
told
Erik Wemple of t
he Washington Post
that "when a high ranking entity wants to place an advertisement using the U.S. News logo to tout its standings . . . its pays a price in the 'tens of thousands of dollars' for the privilege. There are dozens of such clients, says Kelly." U.S. News in its new guise is profitable, its executives report.
But as for Time, this year it received the American Society of Magazine Editor's top award as "Magazine of the Year" for its print and digital excellence, and by all accounts it is still profitable, with particularly strong revenue from its special event issues such as the "Person of the Year" and the "Time 100"annual list of the most influential people from diverse fields. Moreover, the Economist is thriving on strong circulation revenue, as is The Week, both of which in their distinctive ways are explicitly news weeklies. The point is that the weekly magazines are far from extinct as they extend their identities in a variety of ways to stay relevant. Newsweek's new format -- Newsweek Global -- as Tina Brown described it in her front piece for the magazine and elsewhere, "will be a single, worldwide edition of Newsweek, produced for a restless, news hungry, opinion-forming audience that pays keen attention to world events." The plan is for a subscription model available on tablets, the Web, and mobile devices. Does it have a chance of working? So much of the attention to the end of Newsweek has been the downfall of the print brand that the possibility of creating a successful new enterprise has received virtually no notice.
Brown created The Daily Beast from scratch in 2008 before it was merged with Newsweek in 2010. While the Beast is running well behind the comparable Huffington Post in audience and lacks the stature of Slate, it has established itself as a significant and savvy player among the digital news sites. When Brown took over Newsweek, it was already in dire straits financially and had lost its remaining editorial cachet when The Washington Post Company unloaded it and its debts to Sidney Harman for a dollar. Newsweek had already dropped or lost half its subscribers and was caught in an advertising depression that was devastating to vulnerable print enterprises.
Among selected other weeklies, there is much to find encouraging. New York, under the editorship of Adam Moss, is as good as it has ever been, and the family of its owner, the late Bruce Wasserstein, shows no sign of ambivalence in its support. The New Republic has been saved by Chris Hughes, who is mega-rich (reportedly $850 million) because of his early role in Facebook. Currently on a hiring spree and with strong editorial leadership, the New Republic may find its way back to the limelight of national attention. Bloomberg Businessweek is another case of a grand franchise that was on the verge of collapse when it was acquired by Bloomberg and reinvigorated. It was another winner of an award for General Excellence from the ASME this year. While apparently not yet profitable, the trajectory is good. Given the Bloomberg organization's growing importance and the company's vast resources, Businessweek again seems secure.
Without print, Newsweek could now go the way of Life, Look, and so many other magazines that were once a part of American life. But ingenuity, innovation, and determination, all of which Tina Brown has in abundance, may yet resurrect this endangered enterprise. There are so few certainties in today's media environment that Brown deserves the chance to fulfill this latest vision. "As we head for the 80th anniversary of Newsweek next year," she wrote, "we promise to sustain the journalism that drives this great, great magazine--and to embrace with passion its all-digital future."