How Your Job (and Your Wage) Predicts Your Vote
You know the stereotypes. The liberal starving artist. The conservative fat cat. But according to a new study from PayScale, the private salary survey company, there are stats to back up the cliches.
Industries that skew male -- including "hands-on" sectors like construction, mining, and utilities -- were among the most heavily Republican, while Democrats were more likely to work in education and the arts above all others.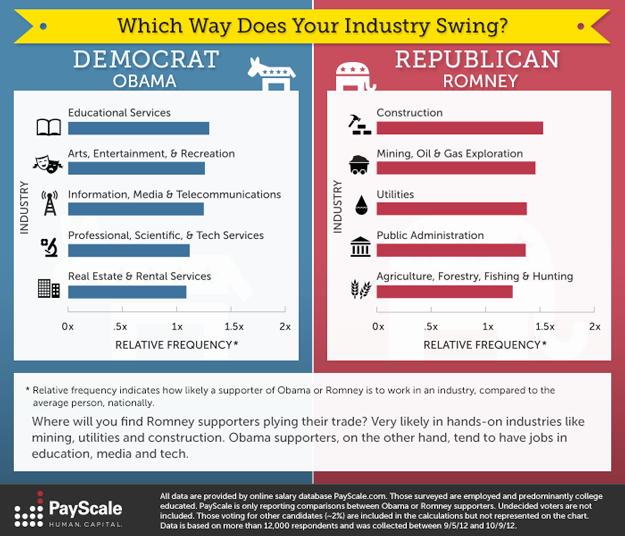 Surprised to see Public Administration preferring Romney? I was too. Republicans tend to prefer smaller government and few public jobs, besides the military. But it's precisely the military that moves this industry into the red column. "Military and national security jobs are included in that industry," said PayScale's Katie Bardaro. "Other public admin jobs like local legislature were split 50/50, while public defenders and local courts leaned Democratic."
Another surprise came in health care, where physicians and doctors in the survey leaned Democratic while registered nurses went Republican, despite Obama's large lead among female voters. "We talked to some nurses, and it all comes down to Obamacare for them," Bardaro said. "[They fear] more crowded hospitals and less money to take care of their patients, when they already feel overworked, underpaid, and overstressed." PayScale did not ask respondents to comment on the effects of Romney's budget, which would reinstate Obama's Medicare cuts but cut projected Medicaid spending by even more.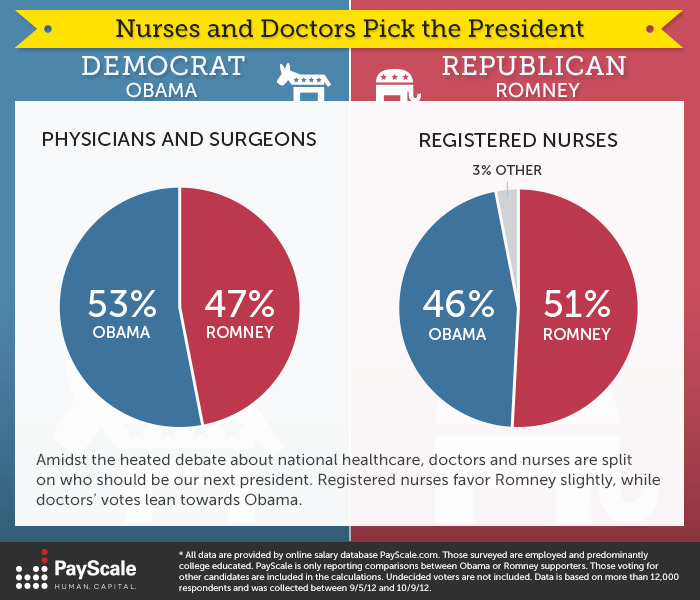 Low-income voters (who are less likely to vote) lean Democratic, and high-income voters (who are more likely to vote) lean Republican. About 70% of the country makes less than $75,000, the line at which PayScale respondents were roughly equal to vote for either party.