How Millennials Leaving Their Parents' Basements Could Save the Economy
For years, journalists and analysts have blamed young people for holding back the economic recovery. Get ready for that story to change.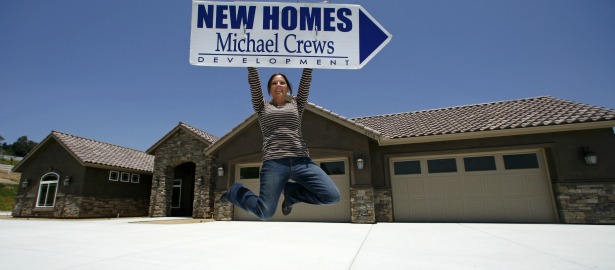 Reuters
Young people are the lazy, smelly scapegoat of the recession. They're not working, they're living at home, they're constantly complaining about their debt, they're not buying cars or houses, and they're not even having babies.
But there is an outside chance that The Twentysomething, the media's favorite economic whipping boy, is poised to become the hero of the recovery, and it all comes down to two words. Household formation.
In the last four years, millions of young people who otherwise would be starting families and independent lives have waited out the recession in the cozy bunker of their parents' basement. One in three twentysomethings reported moving back in with their parents for an extended period of time, according to a 2011 Pew report. Some went back to school. Some worked. Some did nothing.
Whatever they were doing, they weren't moving out or starting new "households." Technically speaking, a "household" is any group of people living together: six roommates, a young couple, a family with kids, anything. By delaying their adulthood, these basement-dwellers were -- through no fault of their own -- holding back the economy by holding back household formation. But economists are increasingly confident that this generation is ready to migrate into the real economy.

Wherever they move, they'll make an impact. If they move into apartments, they'll bid up rent prices (making owning a home relatively more attractive) and encourage the construction of more apartment buildings. If they buy homes, all the better: the entire real estate super-industry will get a boost. New households are more likely to buy cars and appliances. They're more likely to buy cable TV packages. And they're more likely to have kids.

Maybe this all sounds a bit like I'm rehearsing the game of "Life" for you, but in fact these details are crucial to economic growth. Independent adults make the economy grow. The longer Millennials delayed independent adulthood, the further we'd be from a full recovery. Just look at the correlation between household formation and housing starts (via Business Insider). If you want a housing recovery, folks, you need households.

To be clear, the household formation slowdown isn't Millennials' fault, for two reasons. First, they didn't create the recession, and it's responsible to save money by living with your parents when jobs are scarce and pay is weak. Second, household formation has been slowing down for decades, as this graph from BNP Paribas shows, as middle-class Americans had fewer children and young people put off marriage for later in life.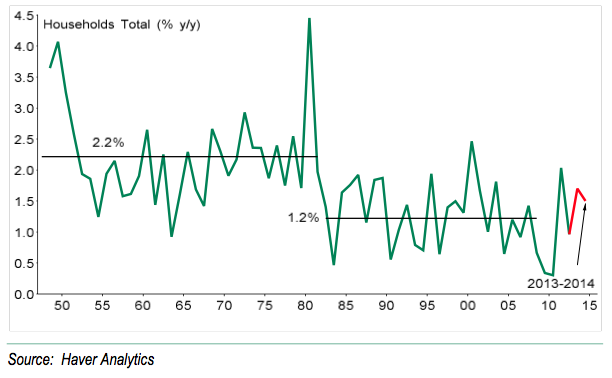 If you ever had any doubt about the role household formation can have on an economy, just look at our levels during the strong 1960s economy and the crazy spike at the Reagan Recovery. Economic growth is people.
So what happens next? The broad expectation is that Millennials aren't going to spring from America's basements with tens of thousands of dollars stuffed in their ratty sweatpants for a downpayment on a house. They'll be renters before they'll be buyers (if they become buyers at all). As Matt Phillips from Quartz writes, this will probably encourage the construction of more apartment buildings to alleviate pressure on rents as demand rises. It might just be enough to turn the stiffest headwind against U.S. growth -- our awful state of housing investment -- into a light breeze at our back.
When that happens, you can thank the lazy do-nothing Millennials for helping to turn around the economy.

>