Going to College: Not Just a Good Investment, but the Best Investment
"Regardless of the cost, college still matters." That's the headline from a new report today from the Hamilton Project, which provides yet another affirmative answer to the question: "Is college worth it?"
Before we get to the evidence, a brief aside on the question, itself. Asking "Is college worth it?" is (as Jordan Weissmann pointed out) is a bit like asking "Should cars be bought?" or "Are computers good?" The question is exceedingly broad, and there's too much variation to provide a perfect answer for everybody. Just as some cars are frivolous or malfunctioning, and some computers are awful, some colleges for some students are clearly bad bets. In fact, the data suggests that many for-profit schools are better at building mountains of student debt than building human capital.

But at the aggregate level, the data tells a different story. College graduates have lower unemployment and higher earnings. The potential value of college has never been clearer.

Three takeaways from the Hamilton report:
(1) The value of college as a way of boosting earnings is near an all-time high, and today a college graduate is "almost 20 percentage points more likely to be employed than someone with only a high school diploma," Michael Greenstone and Adam Looney write. Much of this is due to the collapse in wages for lower income men, but it is also a testament to the enduring value of post-secondary education.

(2) Compared to other investments (housing, stocks, bonds) college *as a category* pays off the most in future returns, thanks to the earnings advantage you can see above. To be clear, this graph does not prove that attending college is guaranteed to result in a 15% rate of return. Like any investment, the benefits from college are unknown and even risky. Some private college students wind up at Goldman and others wind up with $100,000 in debt and unemployed. Whether college is right (and what college is right) for every 18-year old is not knowable. Whether college is failing as an institution is knowable -- and it's not failing.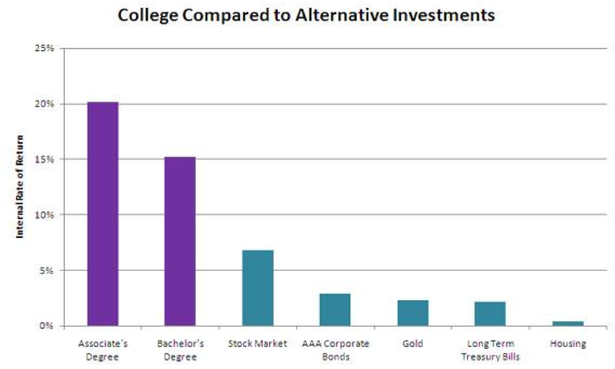 (3) The price of college is rising. But the price of not going to college is rising even faster. "While college may be 50 percent more expensive now than it was 30 years ago, the increase to lifetime earnings that a college degree brings is 75 percent higher," the authors write. Here's that graph: