Get Used to 7.8% Unemployment: Why This Rate Won't Fall Anytime Soon
The fall in unemployment was real ... but unspectacular. That's the conclusion economists Regis Barnichon and Christopher Nekarda reached about the surprising September decline in joblessness. There was no conspiracy. Unless more people finding work and fewer people losing work is a conspiracy.
Of course, it's hardly all good news. This might be as good as it gets for the next six months, at least according to the model Barnichon and Nekarda constructed. Unlike those who rely on Okun's Law -- the relationship between GDP and jobs -- to forecast unemployment, Barnichon and Nekarda look at labor market flows between people finding jobs, leaving jobs or leaving the workforce.

Their conclusion: Unemployment "should" be at 7.8 percent, and it should be there for quite awhile.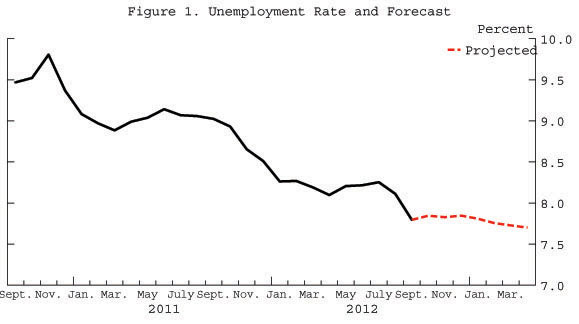 Why should you believe this graph? Because labor market flows tell us more about the current economy than GDP. The best way to spot changes in unemployment is to spot changes in unemployment inflows -- that is, to study the pool of unemployed people. Firms start firing workers before they stop hiring them, and stop firing workers before they start hiring them. The standard models professional forecasters and the Federal Reserve use don't pick up on these unemployment changes until a few quarters after unemployment inflows change.

Which brings us to the caveat. Okun's Law-style models aren't as good at seeing what is there, but they are better at seeing what will be there -- they can project policy changes. The Barnichon-Nekarda model doesn't have much to say about what QE3 or the fiscal cliff will mean for jobs, at least not until we get there. 
This flow model isn't telling us much we didn't already know about the current state of the economy, but it is telling us what we already knew better. Job growth is real, but not real enough to bring unemployment down fast enough. Even in the happy world where the fiscal cliff does not exist, unemployment would not come down much more anytime soon.
It's almost as if Congress should be doing more to help the economy, instead waiting until we're standing at the edge of a cliff.