Europe's Most Tragic Graph: Greek Youth Unemployment Hits 55%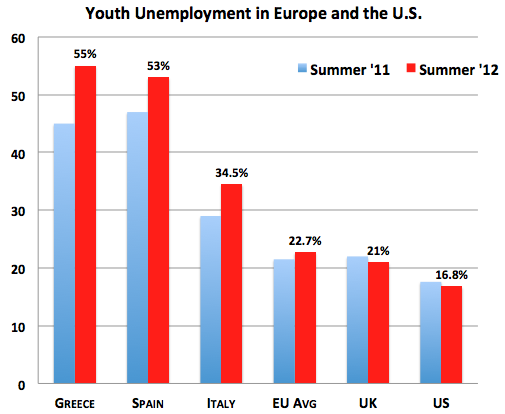 In March 2012, Spain and Greece passed an unenviable landmark of
50% youth unemployment
. That means there were more Spanish and Greek workers under 25 without a job than with one.
Six months later, it's only gotten worse.
A new report from
Eurostat
shows that youth unemployment has increased across the European Union since last summer, and in Greece it grew by a continent-record 10 percentage points. Youth unemployment in Spain and Greece is now 55% and 53%, incredibly. Some low-lights from the report are in the graph above, which compares August 2011 to August 2012 (or to June, where August figures were unavailable) in Greece, Spain, Italy, the UK, the EU average, and the United States.
Here's what the graph doesn't tell us: That a majority of Greek and Spanish young people don't have a job. Unemployment is a ratio: Unemployed people / the workforce. If you're in school or not actively looking for a job, you're not counted in the unemployment rate. As a result, the same number of unemployed young people will yield a higher rate with a smaller workforce. A different ratio calculated by the
BBC
with Eurostat figures -- unemployed youths as a percentage of the whole youth population -- yields a 19% figure for Spain and a 13% figure for Greece.
Here's what the graph does tell us: Young workers in Greece and Spain are facing an absolutely egregious work drought, where half of high-school and college-graduates ready to find a job aren't finding one. And 55% isn't the ceiling. Both economies are shrinking and unemployment is a lagging indicator -- as Americans have learned, the rate can keep going up after an economy technically starts growing. This economic tragedy can easily become a social disaster as young promising people either leave their country to work somewhere else or else turn to illegal or violent activities to protest policies wrecking their economies or lash out against a country that's leaving them behind.