Don't Pity the Rich: The Great Recession Was Worst on the Poor
The Great Recession hit all of us, but it didn't hit all of us equally. It turns out the more you had to lose, the less you lost. The chart below from
Amir Sufi
, a professor of finance at the University of Chicago Booth School of Business, shows us this depressing story in three graphs.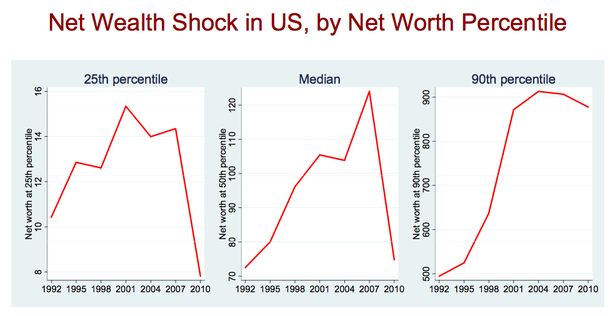 And like that, two decades of gains for the bottom half of households were gone. Not that it's exactly been a banner decade for the top 10 percent of households either -- but at least they're still 80 percent wealthier than they were 20 years ago. This shouldn't surprise us. As
Ryan Avent
of
The Economist
pointed out, three words -- cash, houses, stocks -- explain these three charts. The 25th percentile get their wealth from jobs, but not from housing or stocks; the 50th percentile get their wealth from jobs and housing, but not from stocks; and the 90th percentile get their wealth from all of the above, but particularly from stocks.
That's exactly the story we see above. The 25th percentile barely saw their wealth increase during the housing bubble years because they weren't buying houses, and wages barely kept up with inflation. But then wealth evaporated as jobs did after panic hit in 2008. Meanwhile, median households did see their wealth shoot up sharply during the housing bubble, as their homes rapidly appreciated in value. But then wealth evaporated as housing equity did after the boom turned to bust. And then there's the 90th percentile -- their wealth barely budged since less of it was in housing equity, and more of it was in equities that quickly rebounded in 2009.
The recovery will continue to be nothing but a rumor for all but the richest among us until we can engineer a recovery in the housing market and not just the stock market. There's finally a
nascent pick up
 happening in housing -- which should translate into more jobs -- but more refinancings and writedowns would speed this up. It's almost as if this is an issue the campaigns should be
talking about
in a serious way
.
Until then, 2012 will keep feeling like 1992 for half the country.