Busted: 75% of the Biggest Home Lenders in 2006 No Longer Exist
All you had to do was say yes. That was what it used to take to get a home loan. Of course, you're probably old enough to remember 2006, back when "tarp" was just a word for what baseball uses during rain delays. But the lenders who made those loans? Don't ask them if they remember 2006. They don't exist anymore.
Well, mostly. Only five of the 20 biggest mortgage originators from 2006 are still around independently today. The rest either filed for bankruptcy or got bought as the mortgage market imploded in 2007 and 2008, as the table below from
SNL Financial
shows.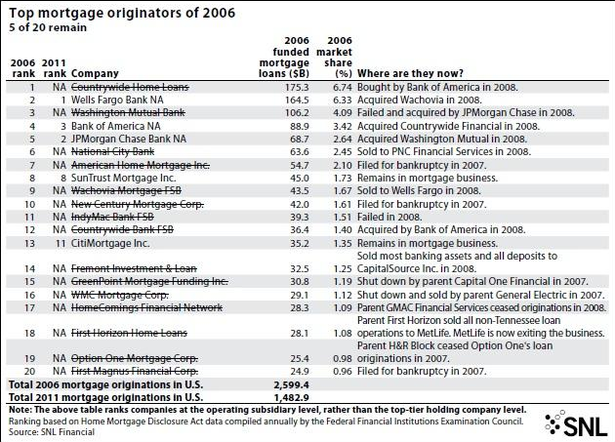 This is what capitalism looks like, kind of. Lenders that weren't too big to fail did fail, and then got scooped up for what buyers thought were bargain basement prices -- or in Countrywide's case, managed to market themselves before the market completely collapsed. But all this consolidation has left lenders a bit understaffed. The chart below from Bank of America Merrill Lynch looks at employment in the mortgage industry from the height of the housing bubble till today. This is what weak demand in a time of mergers looks like.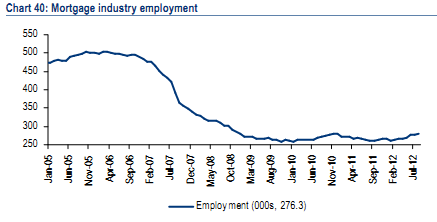 What happens when demand comes back? Nothing -- and that's the problem. If there aren't enough mortgage originators when more people want mortgages, rates won't fall as much as they otherwise would. And if rates don't fall as much as they otherwise would, housing won't recover as much as it otherwise would, and there won't be as many jobs as there otherwise would be.
This isn't a hypothetical. It's what's happening now. A lack of lenders already seems to be blunting the impact of QE3 -- as the
Financial Times
points out, rates haven't fallen nearly as much as mortgage-backed security prices have risen. A professor named
Ben Bernanke
famously argued that these kind of financial bottlenecks slowed the recovery from the worst of the Great Depression -- what he called "non-monetary factors" -- as banks didn't have the requisite expertise or infrastructure to pass along cheap credit to would-be borrowers. It's not quite as bad this time around because we didn't let the financial system fall into the abyss -- we threw money at it and midwifed mergers instead -- so it should be easier for banks to ramp up their lending capacity now.
In other words, too big to fail might save us from not doing the
same things that caused the crash
-- more housing and more debt -- and, at least for that, we should be grateful. We don't want to go back to 2006, but we don't want to stay in 2010 forever either.