Apple's 'Disappointing' (but Still Pretty Amazing) Quarter in 3 Graphs
In the last three months, Apple sold 27 million iPhones, 14 million iPads, a record number of laptops, and 70% of America's MP3 players. It still missed earnings expectations badly. Ah, the double-edged Sword of Hype!
Here's your graphical summary of last quarter at the world's biggest company. First up: The products. For the last year, Apple's made between two-thirds and three-fourths of its money selling iPhones and iPads. Necessary reminder: In 2007, neither of those products existed.

Second: Where Apple makes its money. Weirdly, even though Asia's largest economies are growing two, three, even four times faster than the United States, Asia's share of total revenue fell by 5 percentage points in the last six months. The gains went almost entirely to the American sector.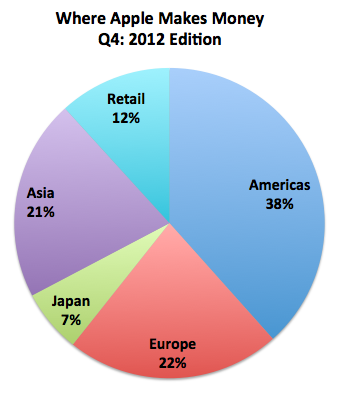 Third: Here's your year-over-year growth across both products and places. This is the graph that shocked Wall Street. iPhone sales shocked on the upside. iPad sales disappointed, falling behind even the growth in Mac laptop sales. The iPad was supposed to be cannibalizing the laptop (and indeed, iPad units outsold Mac portable units by a score of 14 million to 4 million) -- but evidently, enough consumers are either waiting for the Mini or not willing to give up their keyboards that Wall St hiccuped at the news.

Also, it's seriously bizarre that Asian revenue growth (year-over-year) slipped from 115% six months ago to 15% in the last quarter.