Americans Are on a Spending Spree, So Why Is Wall Street So Jittery?
The largest U.S. companies are seeing a scary decline in demand, while U.S. consumers are on a "spending spree." What the heck is going on?
Economic confidence is higher than at any time during Obama's presidency. The unemployment rate is lower than at any time during Obama's presidency. The housing market is flashing recovery signals. GDP growth isn't great, but it's accelerating.
Just as we did before the recession, U.S. consumers are living outside their means and loving it.  "Personal income has not been supportive of personal consumption during the past several months," Eugenio J. Alemán, a senior economist at Wells Fargo, writes. In other words, Americans are spending more than they're making. Basically: U.S. consumers are getting cocky. And cocky consumers are good for a weak economy.

Then earnings season smacked Wall Street's optimism, with big industrials leading the blood bath. Two-thirds of 245 firms surveyed by Factset had worse-than-expected sales -- the lowest figure since early 2009. In the following graph, the industries on the left (financials, information technology) beat expectations and those on the right (industrials and utilities) disappointed.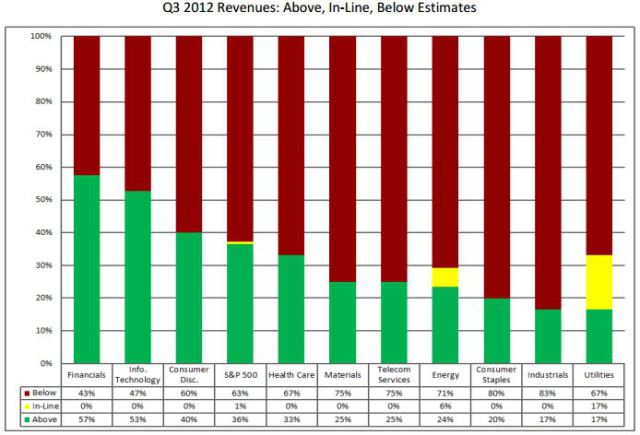 The household story and the Wall Street story seem to be in conflict. But what we're really seeing is a strengthening U.S. recovery and a weakening global economy. The companies that rely exclusively on U.S. demand are poised for a good string of quarters. The companies that rely more heavily on demand from the rest of the world -- especially Europe and China -- just took a hit.
That's oversimplifying things, but only a little. For companies that rise and fall on global demand [e.g.: Caterpillar, GE, Microsoft], sub-2.5% global GDP growth is a bummer. Too much house and too much debt got us into the crisis ... but, ironically, more houses and more debt are the ticket out of the non-recovery. The world could use a dose of our overconfidence.

>