A Question for the Candidates: What About Young People?
How can our young adults prepare against the risks being handed down to them?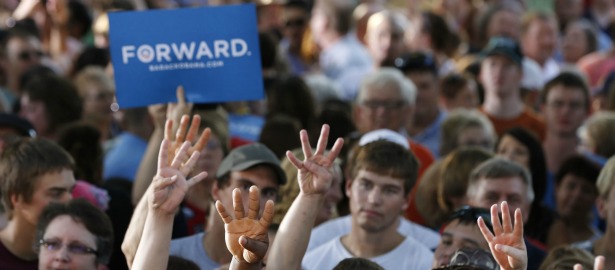 Reuters
Tuesday's debate at Hofstra University is the second of three presidential debates -- all held on college campuses. Yet in the first presidential debate, there was only one mention of how the tough economy is affecting young people.
Governor Mitt Romney remarked that half of recent college graduates can't find a job. He was likely referring to the government data that showed 53.6 percent of people under age 25 with a bachelor's degree -- about 1.5 million people -- were unemployed or underemployed.
College students are disillusioned by this economic reality, and they are eager to hear the candidates address the issues that concern them.
Since the moderator did not ask how the economy would impact young people, I posed this question to college students: If you were given the opportunity to ask the presidential candidates a question at the next debate, what would your question be?
Students responded with the following questions:
What is a realistic plan to see a balanced budget in our future and an actual reduction in the debt and deficit?

Would you be more focused on alleviating the cost of college, or opening up job opportunities for college graduates?

What advice would you give to the average millennial who faces uncertainty with healthcare, social security and a massive debt? How can our young adults prepare against the risks being handed down to them?

How do you think governmental regulations have contributed to the rise of college tuition?

What are the chances I'll have a good job waiting for me when I graduate?
The large majority of students' questions related to the economy, jobs and student loan debt. These are tough questions that students rightfully want addressed. Not only do young people face a difficult job market after they graduate, but the economy will likely have a long-term impact on their career. According to Keith Hall, former commissioner of the Bureau of Labor Statistics, even many of those who can find work will be affected by today's economy for years to come:
Even after these young Americans find work, they will remain at a disadvantage for decades. A study published in January on Canadian college graduates by economists Philip Oreopoulos, Till von Wachter and Andrew Heisz shows that in economies like ours, during normal times the average person sees 70% of his or her career wage growth in the first 10 years on the job.

Further, they found that those lucky enough to get a job but unlucky enough to graduate during a recession will take a 9% hit on pay right off the bat. It usually takes as long as a decade to climb out of that hole.
Our weak economy is altering the everyday lives of college students and recent college graduates -- many are living at home rather than supporting themselves, many are underemployed and delaying major life decisions, and many will feel the financial effects of today's public policies for the years -- even decades -- ahead. According to a national survey conducted for Generation Opportunity, 84 percent of young adults say that current economic conditions have forced them to delay or reconsider a major life change or purchase.
Millennnials are ready to hear the candidates acknowledge the urgency of fostering economic growth and offer positive solutions. The debate will be in a town hall meeting format with undecided voters asking the candidates questions on domestic and foreign policy issues. Tuesday's debate presents an opportunity for the candidates to discuss how their policies impact young people.
President Obama won the youth vote 2-to-1 in 2008. A lot can change in four years. During the debate on Tuesday, young adults will be eagerly listening -- from dorm rooms and parents' basements -- for answers to these questions as they think about their own economic future.
>