Why Entrepreneurship Can Be Bad News for the Economy
In the United States, we tend to think of people starting up new businesses as a sign of a healthy economy. But sometimes, it's more a sign of trouble. Lately, it's definitely been the latter.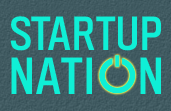 Ideas and Entrepreneurs on the Leading Edge.
See full coverage
Yesterday
we showed how U.S. entrepreneurship has been shrinking for 30 years. Americans are starting companies with employees at a slowing rate. That's a problem, because young firms that expand quickly are important sources of job growth.
At the same time, more people are working alone. Sometimes, we also call these solo workers "entrepreneurs." But you can also call many of them freelancers or people who have run out of other options.
Since the recession, there seem to be a lot of people who have run out of other options.
In 2010, the percentage of Americans starting their own businesses -- including everything from solo consulting firms to web start-ups -- reached a 14-year high of about 0.34 percent, according to a March 
report
 from the Ewing Marion Kauffman Foundation. The rate had been on the rise since 2006, around the time construction began its industry-wide slowdown. The last period of growth followed the dotcom bust.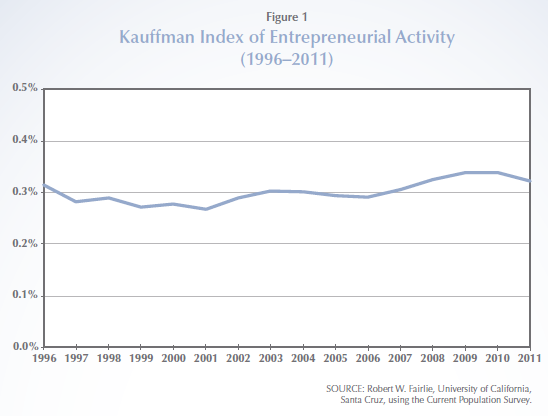 Some of these new companies are obviously helpful to the economy. But when you look at the kinds of businesses getting started, and who is starting them, it becomes clear that lots of entrepreneurship in the last few years has been symptomatic of our sick job market.

Sign of trouble No. 1: The less employable you were, for the most part, the more likely you were to start a business. Since the recession, the fastest growing group of entrepreneurs has been Americans without a high school degree (In blue). The next fastest were high school graduates. College graduates, who were less impacted by this recession, saw only a slight bump.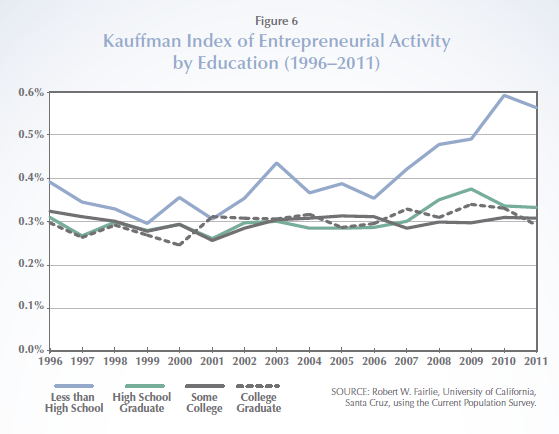 Sign of trouble No 2: The biggest growth has been in the most damaged industry: construction. In general, the sector is home to more "entrepreneurs." But after both the dotcom bust and the housing bust, their ranks swelled, even as the number of new construction companies with multiple employees plummeted. It's a good bet that a lot of these new business owners were fired from a job, and are now trying to start up again solo.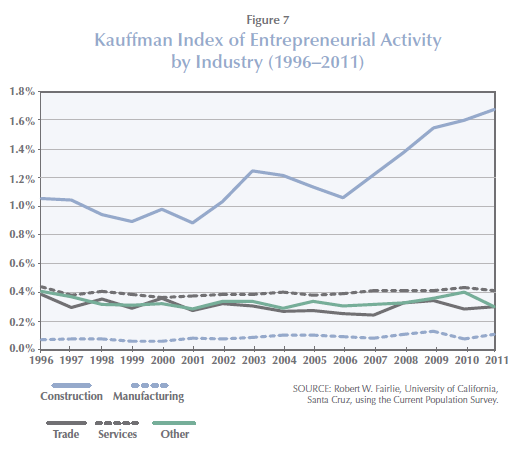 Sign trouble No 3.: The growth of entrepreneurs has been disproportionately among Hispanics, who have suffered from higher rates of unemployment than Whites and Asians (though, notably, not African Americans, who generally have lower entrepreneurship rates).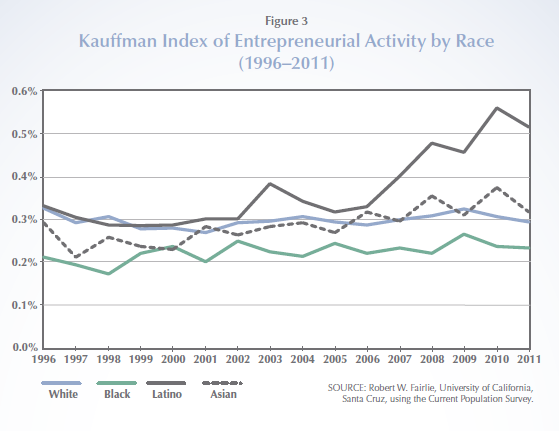 Our new entrepreneurs have largely been in the most desperate positions economically. Chances are, a lot of them would much rather be working for someone else's company than starting their own.