What's Really Eating the Family Budget? It Ain't Smartphones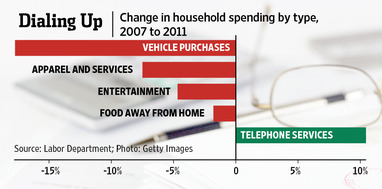 "Cellphones are eating the family budget,"
the
Wall Street Journal
announced this morning. Are they really, though?
The typical household's telephone spending is up more than 10% since the beginning of the recession. That sounds pretty bad. Phone services are rising by 5% a year while median incomes are flat-lining. That's no good, either. While spending on cars, clothes, and dining out has dropped since 2007, phone services have increased by more than the typical families spending.

The WSJ is 100% right: Cell phones are getting smarter, better, and more expensive. But the real "eater" of the family budget isn't our new smart phone. It's something older. Actually, it's three things. And they're the same three things that have been eating middle class budgets for the last 30 years: housing, health care, and education.
Over the last few decades, the U.S. and the global economy have been very good at making the production of some things more efficient. TVs are a good example. So are socks and paper. These things are much cheaper as a share of a family's budget than they used to be. Meanwhile, however, other things haven't gotten much cheaper. Spending on housing, health care, and education has grown over the last 100 years, 50 years, ten years ... and they're still rising. Some of this is explained by global competition. Several countries can compete down the price of televisions and ship them anywhere in the world, but a Connecticut doctor isn't competing with a South Korea doctor; he probably isn't even competing with a Florida doctor. Services and goods that must be consumed locally tend to get more expensive as incomes rise. Health care and education, for example, are locally delivered services, and it's hard to imagine a more local "good" than real estate.

The graph below uses Labor Department data to measure change in household spending between 2007 and 2011 across several additional categories, like medical insurance, rent, and home furnishings. Check out the top categories American spending went up the most in: Health care, housing (Rent; Mortgage payments are down), and education. There they are again.
Change in Family Spending: 2007 - 2011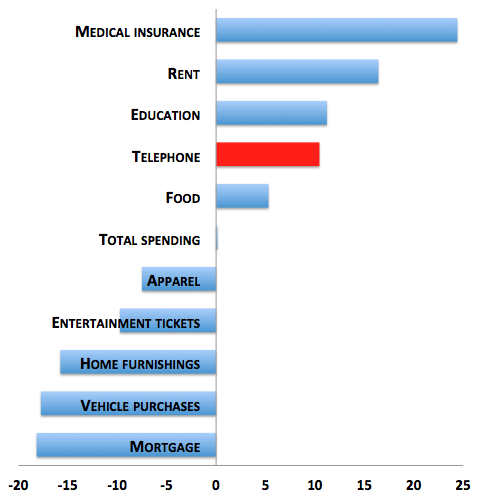 The typical U.S. family (and yes, this is a generalization that overlooks a lot of variation between income quintiles) is spending $910 more on food, rent and medical insurance than it did in 2007. It is spending $116 more on telephone services. One hundred and sixteen dollars is real money, and some low-income people are in fact paying significantly more on telephone services.

But cellphones aren't eating the family budget. They're nibbling. The great devourers -- housing, medicine, and education -- are the same ravenous monsters we've been living with for decades.