What's Depressing the White Working Class These Days? Everything
When pollsters ask Americans who they fault for our economic woes these days, we seem to come back with a very troubling answer: We blame everybody.
Last month, The Pew Research Center released a lengthy study of the U.S. middle class that found its ire directed at banks, Congress, large corporations, the Obama and Bush administrations, and foreign competition. The only people the middle class didn't seem angry with were middle class families themselves.
Today, the Public Religion Research Institute is out with a somewhat similar survey focusing on the white working class -- that large, shrinking, and ever-obsessed-about portion of the electorate that still has enough power to tip an election. The results captured below aren't far different from what Pew found of middle income families. Whites who have never been to college are ready to blame big companies, big government, and big finance for what ails us. They're also ready to blame immigrants.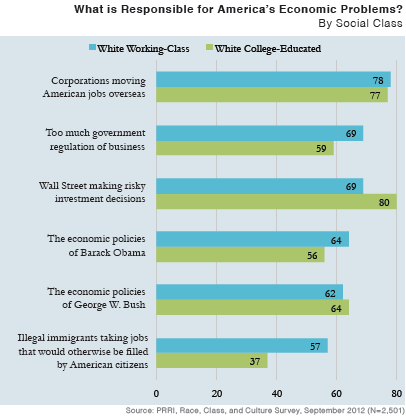 College grads are a bit less indiscriminate. Their beliefs seem to fit a slightly more liberal mold -- more enmity towards corporations and Bush, less towards immigrants, the government, and Obama. But overall (in keeping with what Ron Fournier and Sophie Quinton have written for National Journal), whites have very little faith in our important institutions, just resentment.
And maybe that's fair. Some of these causes fit uneasily with each other -- squaring blame on Wall Street and blame on regulation seems is a bit of a leap -- but you could make at least some case for each of them. The question isn't so much whether these sentiments are misguided. It's where will people turn to for economic answers when they've lost this much trust for the people even somewhat in control? I don't have an answer for that. I'm not sure anybody does.
__________________
*For a look at the political implications of the survey, check out my colleague Molly Ball's post from earlier today.