Venture Capitols: The Most Popular States for Startup Investors
Over the last two weeks, my colleague Alexis Madrigal has been touring nascent start-up scenes across the Midwest, reporting on entrepreneurs in places like Cleveland and Detroit who are both building companies and, hopefully, urban revivals.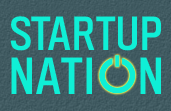 Ideas and Entrepreneurs on the Leading Edge.
See full coverage
The more ambitious people like that we have around the country, the better off we'll be. But where are America's scrappy tech start-ups really finding success today? When measured in venture capital dollar, mostly in just a few, select places.
In 2011, according to the National Venture Capital Association's
annual report
, only four states broke the $1 billion in VC investment: California, Massachusetts, New York, and Texas. Together with fifth place Illinois, they claimed 77 percent of all $28.8 billion dollars of VC dollars invested in the United States. About 51 of that money sloshed around California alone.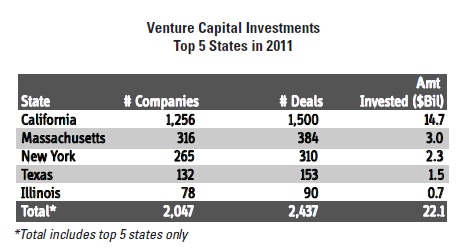 While investment is still concentrated today, it is beginning to spread around a bit. According to the NVCA, companies received venture capital infusions in a record 46 states (47, if you include the District of Columbia). Only Wyoming, Alaska, Arkansas, and Mississippi were left out.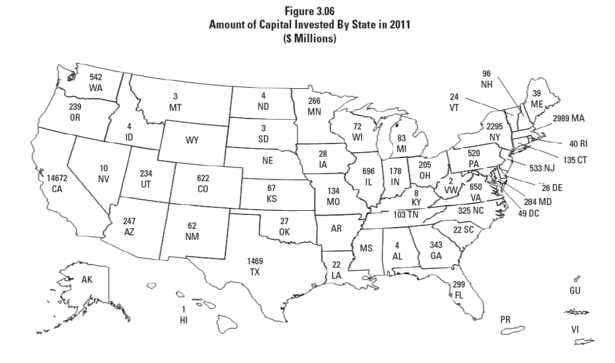 Some states are bound to end up as the destination for more VC funding simply because they have larger overall economies. So to create a measure of which parts of the country were the most start-up-oriented,* I looked at total VC funding as a percentage of state GDP. Massachusetts and California still top the list, with total VC investments reaching nearly a full percentage point of GDP, but they're joined by smaller tech hubs such Utah, Colorado, and Washington. Perhaps the most surprising member of the top 10: New Hampshire, where 16 companies pulled in $96 million total in VC funding last year.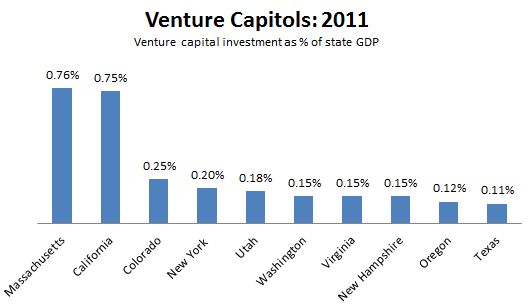 Only 13 states received VC investment equal to 0.1% of their GDP or more. So we're not quite a startup nation yet -- but perhaps we're becoming more of one. 
_______________________________
*Again, I'm talking specifically about the sorts of cutting-edge start-ups with the potential to scale up that VC investors are interested in, not new small businesses, which I've discussed in previous posts.