'The Super Bowl of School Reform': What the Chicago Teacher Strike Is Really About
The public supports higher pay for teachers, but not at the expense of less accountability. That's a problem for the Chicago teachers union.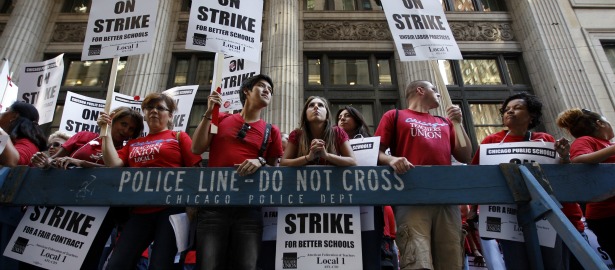 Reuters
The Chicago teachers strike is no ordinary labor dispute. It's a part of a larger war between the teachers unions and a growing coalition of education reformers who have pushed for rigorous teacher evaluation and tenure reform across the country. As the Chicago Tribune argued in yesterday's editorial page, "the strike is not only--or even mostly--about money. It's about who controls schools and classrooms..."
In education policy circles, this is way bigger than even the presidential election. It's the Super Bowl of school reform.
As Education Week's Stephen Sawchuck and others have pointed out, the real sticking points revolve around two issues that are central to education reform debates: teacher evaluation and job security. First is the district's plan to evaluate teachers on the basis of student test scores. The CTU opposes this idea. As CTU leader Karen Lewis argued when she announced the strike, "Evaluate us on what we do, not the lives of our children we do not control."
Second is the issue of "recall rights," a proviso that would require schools to rehire laid-off district teachers on the basis of seniority when new jobs open up. The union wants recall rights because they add a layer of job security for their members. But district and school leaders argue that it prevents schools from hiring the best teachers for the job.
But the contract isn't the only theater of battle here. This is a war for hearts and minds across the country. On this score, the CTU is on shaky ground. In fact, public opinion data reveal that they might find a more sympathetic audience if the fight were over bread and butter issues like pay and benefits rather than policies like teacher evaluation. When it comes to the policies at the heart of the current standoff, Mayor Rahm Emanuel and company seem to have the upper hand.
In a 2011 survey, Harvard University's Program on Educational Policy and Governance (PEPG) asked respondents how they felt about teacher pay, benefits, and evaluation. When asked whether teacher salaries should increase, 59 percent of parents (and 55 percent of the general public) said that they should "greatly increase" or "increase." And while a sizable minority (43 percent of the public) expressed support for a proposal to have teachers pay 20 percent of their healthcare and retirement benefits, most respondents either opposed the idea (23 percent) or were non-comittal (33 percent neither favored nor opposed).
Rightly or wrongly, most citizens would side with the teachers in a contract dispute that hinged on pay and benefits.
But that's not the case on the issue of teacher evaluation, where the district's proposals are more likely to garner majority support. On the PEPG survey, 55 percent of respondents favored awarding tenure on the basis of student progress on state tests; just 20 percent opposed it (the rest neither favored nor opposed). Among parents, 60 percent were in favor of this idea. Even on the more controversial issue of whether teacher salaries should be linked to student test scores, 50 percent of parents and 47 percent of the public favored it, while just over a quarter opposed the idea (26 and 27 percent, respectively).
This year's Phi Delta Kappan/Gallup education poll asked respondents what portion of a teacher's evaluation should be based on how well their students perform on a standardized test. Fully 63 percent of respondents suggested that more than one-third of a teacher's evaluation should be based on student test scores; 35 percent thought it should count for less than a third. In Chicago, the district proposed a system that would eventually reach 45 percent of a teacher's evaluation after inching up incrementally each year, a mark that more than most Americans think is sensible.
The point is not that the public knows what's best for schools, nor that we should make decisions about teacher tenure and evaluation by referenda. But public sympathy and goodwill are an important and fickle force in policy debates. In the Chicago saga, the side that wins hearts and minds will be in a stronger position next time around, while driving a hard bargain on the contract may well prove pyrrhic if it means losing in the court of public opinion. The tea leaves suggest that the district is in a strong position. The union is not.
>