The Power of a College Degree: 2 Awesome Clip-and-Save Graphs
One of the most striking college graphs I've ever seen came from Michael Greenstone and Adam Looney at the Hamilton Project. They compared the rate of return from an associate and bachelor's degree against other investment categories, like the stock market, corporate bonds, gold, and a house. Their conclusion was anything but subtle: Even if the returns from a college degree are not rising as fast as they used to, higher education is still a more worthwhile investment than, well, just about any other investment.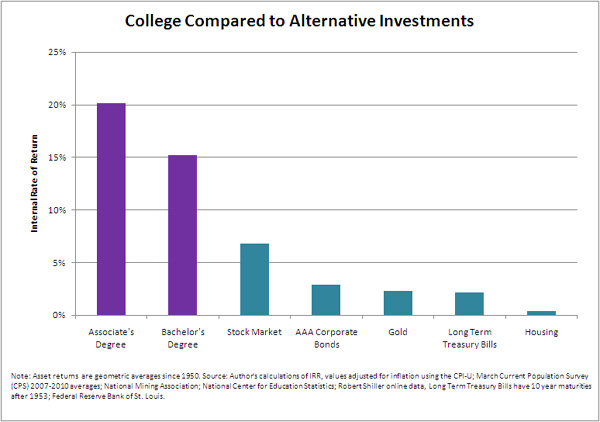 Today, Greenstone emailed a preview of the Hamilton Project's new paper on the value of education, featuring this striking image below, which shows the distribution of income for individuals who go into the workforce with various levels of education, from less than a high school diploma to a full college degree. Quick conclusion from the left end of the graph: 80% of individuals making less than $10,000 didn't finish college. Quick conclusion from the right end: 80% of those making more than $150,000 did finish college.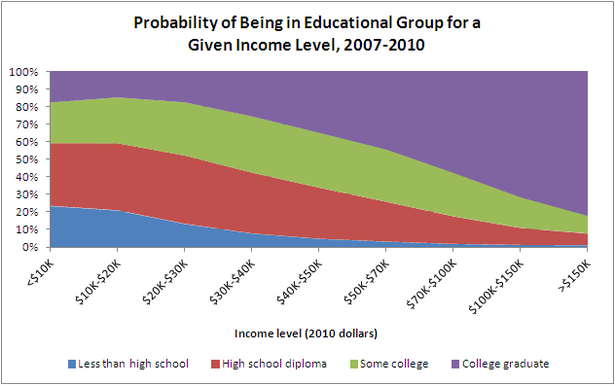 Two more stats from the paper:

An individual with only a high school diploma is twice as likely to make less than $40,000 per year than someone with a college degree.


An individual with a college degree is nearly nine times more likely to make over $100,000 than someone with only a high school diploma and 13 times more likely to make more than $200,000 per year.
Greenstone's conclusion: "More education opens the gateway to better, higher-paying jobs."