The New Plan to Save Europe (and Why It Almost Certainly Won't)
The European Central Bank: "The euro is irreversible!" Economist: So is your recession.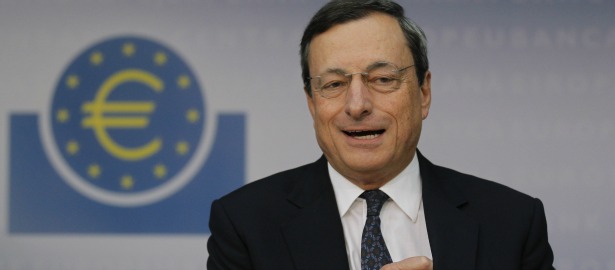 Reuters
This morning the European Central Bank announced a brash and market-thrilling plan to help its diseased peripheral European countries borrow at lower interest rates. The catch? Those countries have to do whatever the ECB tells them.
This is a simple trade. More money for less sovereignty. It is the trade that every state in the U.S. makes without thinking twice about it. Our individual states are obliged to follow certain federal rules, blackmailed to establish laws, and bullied into spending they might not take up as sovereign nations. In exchange for this, they have access to the United States federal government, which is the world's most powerful insurance department. When there's an economic or natural disaster, the federal government has a good, if imperfect, record of spending quickly to establish a bottom in addition to keeping prices steady.
So, hooray! The Europe has its lender of last resort and the crisis is over, right? No. Not ever.
The crisis in Greece is still utterly intractable. The rest of the continent isn't growing. Spain is in a deep recession. Lower interest rates make default less likely, but they aren't the antidote to continental stagnation, at least in the short term.
"The ECB plan helps by lowering sovereign borrowing costs, but it is far from a solution to the crisis since it will do little to prevent a deepening in the economic recession that that the European periphery is now experiencing," said Desmond Lachman, of the American Enterprise Institute, via email.
In fact, if the ECB's straitjacket forces Spain, Italy, Portugal, and Ireland to continue to cut spending in the face of a recession, then the "deal" will only amount to cheaper borrowing in exchange for slower growth. Think of it this way. Spain is in a hole. It needs lots of wood to make a ladder to get out. But it can't afford to pay for the timber. Somebody comes along. "I'll sell you discounted wooden planks, if you promise not to buy enough to build a whole ladder." Good deal?
Today's market rally suggests it might be. This is the ECB drawing a line in the sand -- or on the yield chart. "We will have a fully effective backstop to avoid destructive scenarios with potentially severe challenges for price stability in the euro area," Mario Draghi told reporters. "The euro is irreversible."
But, for now, equally irreversible is the European recession. "It is only a matter of a few weeks before the markets figure this out as the recessions in places like Spain and Italy continue to deepen as a result of fiscal austerity," Lachman said.