The Jobs Crisis in 2 Graphs: 1 Totally Depressing, 1 Only Sort Of Depressing
How has the Great Recession compared to past U.S. recessions? There might be no better graph -- er, scarier graph -- to answer that question than this one from Calculated Risk. It matches job losses in the Great Recession against the last 10 downturns since World War II. Ouch.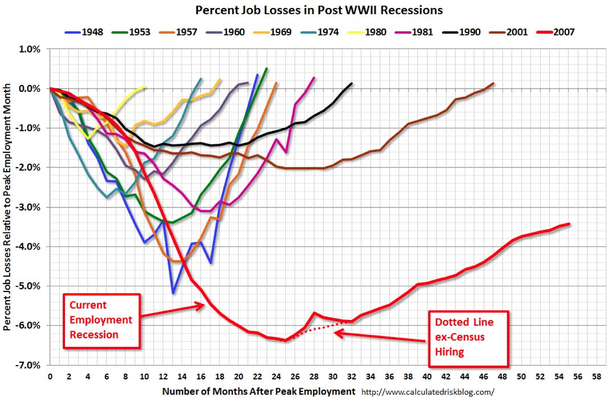 But how has the Great Recession compared to other financial crises of the 20th century? Josh Lehner (via Planet Money) matches up the lines. We're in bright red. And we're doing ... relatively okay.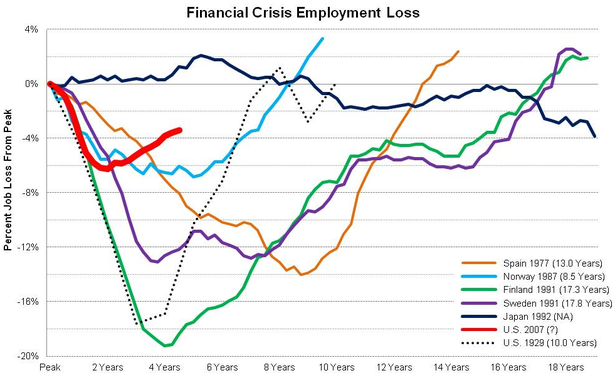 "Relatively okay" isn't nearly good enough for the 12 million people who are officially unemployed, or the millions more who dropped out of the labor force because they didn't think there was a job for them. Truly, neither graph is the right graph. The first compares a 21st century financial crisis to late-20th century downturns when demographics and global competition made it easier to recover from recessions. The second compares a U.S. crisis to real estate busts and financial crises in other countries -- or the Great Depression from 1929.

Basically, there is no chart that can authoritatively tell us what policymakers and politicians would like to tell us: And that is, where the U.S. is today versus where it would be if their policies and ideas were law. We have these imperfect comparisons instead, and both imperfect figures inform each other. We are a long way from where we need to be. But also: Things could be much, much worse.