Romney's 'Secret' Economic Plan Isn't a Secret (and It's Not Much of a Plan)
A "tax holiday" for multinational corporations isn't much of a stimulus, unless your goal is to stimulate the top 1%.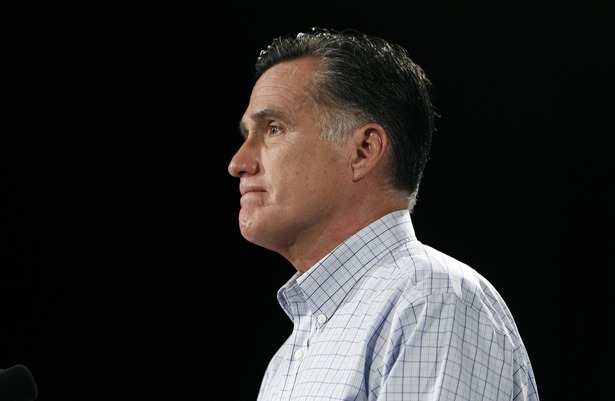 Reuters
Mitt Romney's official economic plan includes repealing Obamacare and maybe not much else. But Politico reports that he might have a stealth strategy for helping the economy that includes a grand deficit bargain and a plan to encourage corporations to stop saving and start spending:
Romney's metric-obsessed transition team is fleshing out a "200-day plan" (100 days wasn't enough time to pass a bunch of big bills) aimed at goosing the recovery and creating jobs by bringing corporate cash off the sidelines in the United States and attracting investment from abroad.
That sounds like a plan to allow international companies to bring home profits without paying the U.S. taxes. This is called a "repatriation holiday." When a company earns money overseas and wants to spend it here, they have to pay the difference between the lower foreign tax and higher American tax rate. That's "repatriation." And if Washington announces that corporations can repatriate their overseas income without paying any more taxes, that's the "holiday."
In fact, Romney's support for a tax holiday isn't much of a secret. His corporate tax reform plan includes the very same holiday. With time, he would create a permanent tax holiday by moving us to to a system that wouldn't tax foreign profits at all. This idea -- called a "territorial" corporate tax system -- isn't crazy or exotic. The president's deficit commission discussed the idea. So did the president's committee on tax reform.
But there are reasons to be skeptical of both a short-term and long-term holiday for overseas income, without further changes to taxes. A permanent tax holiday on overseas income would make it cheaper for multinational companies to expand overseas. On the one hand, it might make them more competitive and more likely to re-invest their earnings back in the U.S. On the other hand, it would also encourage them to continue to move jobs to other countries. In fact, that appears to be what they're doing, anyway.

And a short-term tax holiday? It's not much of a stimulus plan, unless your goal is to stimulate the top 1%. In 2005, the Bush administration announced a holiday for repatriated income and 92 percent of the money that came back went straight into dividends and stock buybacks. A study by the National Bureau of Economic Research found the program "did not increase domestic investment, employment or research and development."
 
"This is just a way to get money in the hands of your shareholders," Eric Toder of the Tax Policy Institute told me last year.

"If you want to stimulate the economy by giving money to a group of people, this is the last group of people you want to give money to."
>