Party's Over: How Did Brazil's Economy Get So Bad So Fast?
High taxes, poor infrastructure, and astonishingly complicated regulations have conspired to bring an end to the Brazilian Decade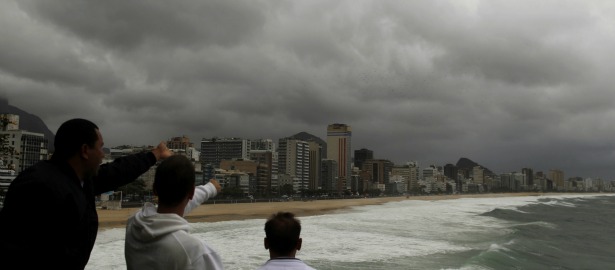 Reuters
SAO PAULO - For decades, Denis Dias's parents could never break into Brazil's middle class. They started a bakery and a pizzeria in the 1970s and 1980s, but the country's economic instability and hyper-inflation consumed their businesses and their hopes. His father ended up owning a newsstand. His mother worked as a maid. And Denis attended dilapidated state-run schools.
Over the last 10 years, Denis and at least 35 million other Brazilians have achieved their parents' dream. Denis is a corporate lawyer at a Brazilian energy company and a new member of Brazil's middle class, now 100 million people strong. Denis, his company and his nation have ridden the exports of iron ore, soy, oil and other natural resources to prosperity.
But Brazilians ranging from Dias to business leaders to government officials say Brazil must develop a more sophisticated economy and effective government if it hopes to continue its rise. While attention has focused on political turmoil in India, China and Russia, Brazil has quietly emerged as the economic laggard of the BRIC countries.
"Brazil is not competitive," Dias lamented. "We need to change."
AND NOW FOR THE HANGOVER

Two weeks ago, Brazil's finance minister announced that the country's economy grew at an anemic 0.6 percent in the first half of 2012, far below South Africa's 3.2 percent, Russia's 4 percent, India's 5.5 percent and China's 7.6 percent during the same period. Even Latin American rivals Mexico, Chile and Colombia are growing faster, as is the United States.
Other indicators are worrying as well. In 2011, the World Bank named Brazil 126th out of 183 countries in its "Ease of Doing Business" rankings, a drop from 120th the previous year. Fears are high here that the country's unsolved structural problems will prevent it from returning to the 4 percent average annual GDP growth it enjoyed over the last decade.
"Brazil will continue growing at pretty anemic rates," said Pablo Fajnzylber, the World Bank's lead economist in Brazil. "It will likely not go back to that 4 percent."
To become a sophisticated economy with consistent growth, experts say President Dilma Rousseff must double Brazil's spending on infrastructure, radically reform an education system that produces far too few skilled workers and engineers, ease high taxes and byzantine regulation, and curb corruption.
The ruling Workers Party defends its performance. In an impressive economic feat, middle-class Brazilians - defined by the government as a family of four making $600 to $2,500 per month - rose from 38 percent of the population in 2002 to 53 percent today, according to the World Bank.
A combination of strong economic growth and former President Luiz Inácio Lula da Silva's famed "bolsa familia," or "family allowance" program - the largest conditional cash transfer program in the world - reduced poverty by 40 percent. Extreme poverty - defined as families struggling to obtain enough food - dropped by 50 percent, and Rousseff has vowed to eliminate it.
Dias, the corporate lawyer, moved from Brazil's working class to its elite. His wife, who has an MBA from a Brazilian university, works for a local company that helps American franchises open in Brazil. Their newborn son will attend an elite private school, not a decrepit government one.
With Denis's help, his 60-year-old mother has turned the house where he grew up in south São Paulo into a palace of Brazilian-style consumption. There are four televisions, four bedrooms, three bathrooms and two refrigerators, as well as an Xbox, DVD player and laptop computer.
"When I was a maid, I would work for 10 days without going home," Dias's mother, Lourdes, said as she proudly showed off her comfortable home. "Now the working conditions are much better, the payment is much better, and you have a choice who you can work for."
Maria de Fatima Silva, a maid and 53-year-old mother of three who lives in the neighboring Monte Azul favela, agreed. As São Paulo's middle class has expanded, bidding wars have erupted over maids, a longtime Brazilian prestige symbol.
Silva said that her earnings have doubled from $250 a month to $500 a month over the last decade while her work days declined from eight hours to six. At the same time, rising wages and the work of a non-profit group vastly improved living conditions in her favela.
"Now, it's better," she said, praising life in Brazil. "I used to work more and earn less. Now, I work less and earn more."
HIGH TAXES, BUT FOR WHAT?

But what comes next, many Brazilians are asking, as the country's economy slows. Rousseff, a little-known former Marxist guerrilla who later became an economist, served as the chief of staff of charismatic former President Lula. Like her predecessor, she has proved more centrist and pragmatic than expected.
In August, she announced a $60 billion project to double the country's highways and railways. In an ideological shift for her party, she invited Brazil's private sector to participate.
New educations reforms are designed to ease a dire shortage of engineers that has prompted Brazilian companies to hire engineers from Spain and other struggling European countries.
And a core problem remains Brazil's tax system, one of the most onerous and convoluted in the world. Dias, the corporate lawyer, said citizens and companies are increasingly frustrated with paying tax rates that rival those of Western Europe and not receiving commensurate services.
"People are getting really disappointed," he said, "because it doesn't achieve results."
For the last decade, Brazil's achievements have been impressive. But now, its barriers to growth, government corruption and low education levels are catching up with it. To extend its prosperity, it needs to shift from relying on natural resources to developing human ones.
This article originally appeared on Reuters.com, a partner site.