Meet the High Priest of Runaway College Inflation (He Regrets Nothing)
Students have more debt than ever before. But the university president who helped propel a tuition arms race says schools are just getting started.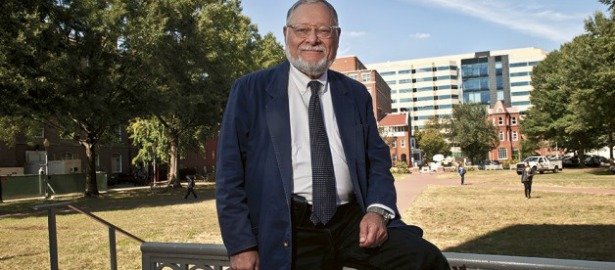 Richard A. Bloom
Shortly after Stephen Trachtenberg announced in 2007 that he would step down as president of George Washington University, he strolled alone from his office to the school's library, where he often held informal office hours at the adjoining Starbucks. He bought a cup of coffee and sat at a table outside, contemplating his success.
The valedictory beverage felt well earned. Since Trachtenberg took over in 1988, he had boosted the school's endowment from $250 million to $1 billion and built many state-of-the-art facilities, such as computer and research labs. The profusion of comforts didn't just stimulate students' minds; it also fulfilled their every whim--a change that drew a more selective, more intelligent group of applicants and sent the admission rate plummeting from 75 percent to 37 percent. "It was a very soothing, very beautiful experience and gave me a great sense of satisfaction about my tenure as president," Trachtenberg wrote in his memoir, Big Man on Campus.
Trachtenberg's students funded this triumph. When he became president, they paid $25,000 (in today's dollars) in tuition, room, and board to attend; by the time he retired, they paid $51,000. Trachtenberg made George Washington the most expensive school in the nation. The burst of cash powered his agenda, but the freshmen who borrowed to enroll--46 percent of the class--during his final year graduated with an average of $28,000 of debt.
Trachtenberg also set a trend that other colleges--first his private competitors, then universities across the country--felt compelled to follow. Today, George Washington is only the 21st most expensive school, and the average American student accumulates $24,300 of debt earning her diploma. Collectively, Americans hold more student-loan debt than credit-card debt, and graduates enter a world where more than half of them are jobless or underemployed.
A recession requires austerity, and Trachtenberg concedes that the charge-more/spend-more model cannot continue in today's economy. "I don't think the current model can go on," he says, pointing out that schools can't spend when their cash reserves run low.
But his misgivings go only so far. He still swears by the system he built, and he believes that the economy will improve to accommodate universities' ambitions before schools have to scale back in response to the slowdown. If he has any regrets about his presidency, it is that he wishes he had pushed his board harder to spend more. "I would have been bolder," Trachtenberg says. "I devoted too much time and energy worrying about a rainy day."
DEBT IS GOOD?

In a world where reputation and endowment are the most tangible--and therefore the most important--measures of scholastic success, Stephen Trachtenberg's vision for higher education is a glimpse of the debt-driven future.
Trachtenberg himself chose Columbia University when he graduated from high school. He remembers feeling impressed by its "international repute," "academic gravitas," and "sense of serious scholarship." He did not mind that all it took to fill his dorm room was an armoire, two desks, and a bunk bed he shared with his roommate, Ted Small. Trachtenberg took the top bunk, Small took the bottom, and the two were content to be dry when it rained and warm when it snowed.
Trachtenberg was an only child, and his father was a life-insurance salesman in Brooklyn who could pay for only about half of the $816 annual tuition. Trachtenberg paid the difference and covered his living expenses by delivering The New York Times during the school year and waiting tables in the Catskills during summers. The college gave some aid based on need, but Trachtenberg got none. Still, he remembers being surrounded by students from both elite and working-class families at Columbia.
He graduated in 1959. After acquiring a law degree from Yale and a master's in public administration from Harvard, he eventually spent 11 years as president of the University of Hartford. When he moved to Washington to take over at George Washington, it was a school with a relatively meager endowment that accepted the overwhelming majority of applicants.
But students had changed since he and Small shared their hovel. Now they expected more from their schools--and they were willing to pay more for it. "It was a matter of competition," Trachtenberg says in the way of justifying the suite-style dorms he built, the remote campus he acquired, and the tuition hikes that he began almost immediately. "These sorts of facilities were being offered elsewhere. We were either in the game or we weren't in the game."
Trachtenberg's opponents weren't Columbia, Yale, or Harvard. They were other private universities with similar profiles. He looked at U.S. News & World Report to see where else his applicants had sent their SAT scores and discovered that his peers were Emory, Tulane, Syracuse, Boston University, and New York University. Each is a large urban school now ranked between 20 and 50 by the magazine's annual college survey. (George Washington is 51.)
Those rankings are infamous for their gauzy attempt to measure academic quality, a nonquantifiable abstraction. They don't even measure job placement after graduation. Instead, they gauge factors such as campus life and spending per student--and by those criteria, a pricier school is also a better school.
The way Trachtenberg saw it, selling George Washington over the other schools was like selling one brand of vodka over another. Vodka, he points out, is a colorless, odorless liquid that varies little by maker. He realized the same was true among national private universities: It was as simple as raising the price and upgrading the packaging to create the illusion of quality. Trachtenberg gambled that prospective students would see costly tuition as a sign of quality, and he was right. "People equate price with the value of their education," he says.
Trachtenberg was hardly the first to reach this conclusion, but under his leadership, George Washington was peerless in following its logic. He didn't spend the tuition windfall to shift the professor-to-student ratio or overhaul the curriculum. Instead, he covered the campus in cafés, beautiful study spaces, and nicer dorms. Trachtenberg thought that construction on campus gave the appearance that the school was financially sound and was progressing toward a goal, so his policy was, "Never stop building." If he wanted to erect or renovate two buildings, he would stagger the projects so that jackhammers could be heard constantly around campus. He also introduced a three-day orientation, known as Colonial Inauguration, that featured ice-cream socials, casino nights, and a laser show that cost $2,500 per minute.
Meanwhile, more and more applicants were choosing George Washington over its rivals, which realized that they, too, had to telegraph value to attract top students. The result was a tuition arms race. Between 1988 and 2008, private schools' spending on noneducational assets outstripped their outlays for research, academic support, and instruction. (Class size remained the same at GW and its competitors during Trachtenberg's 19-year tenure, and the nationwide percentage of full-time faculty fell from 80 percent to just over 50 percent between 1970 and 2007, according to the National Center for Education Statistics.) Those buying sprees cost money: Many registrars, at both large universities and small liberal-arts colleges, have raced to cross the $40,000--then $50,000--tuition threshold in the last decade. George Washington now costs more than $56,000, and still there are 20 schools more expensive.
This wasn't pure class warfare. Along with spending on campus amenities, private colleges also focused on merit scholarships, diverse student bodies, and even, at the richer schools, need-blind admissions. GW was the nation's most expensive school, but it still had one of the most economically diverse student bodies, Trachtenberg says. (At least that's what he remembers telling his board of directors to say if its members felt self-conscious about the rising cost of matriculation.) Private schools across the nation discount their tuitions by an average of 42.8 percent today, up from 26.7 percent in 1990.
While critics accused Trachtenberg of "educational socialism" for squeezing money out of top-earners, he called it "buying talent" and said that students were more interested in attending a $40,000 school with a $20,000 discount than they were in attending a $20,000 school.
LESS IS MORE

Higher-education economist Jeff Denneen calls Trachtenberg's philosophy "the law of more." Rather than distinguishing themselves from their competitors--by offering a special course of study, for example, or concentrating on an exceptional athletics program--many universities have tried to be everything to everyone. At tuition-dependent schools with low endowments, this has led to a kind of stratification: Students at the top of the income ladder can absorb tuition hikes and those bottom can win financial aid. But those in the middle are feeling an ever-tightening squeeze.
Cornell, which costs $57,000, is a good case study. Students from families that make less than $120,000 are eligible for unlimited financial aid. But the university recently capped aid at $7,500 for students from families making more than $120,000. Wealthy applicants can pay the difference, but middle-class ones have to take out loans. The quality of campus life for students across the country is surely better than what Columbia offered Trachtenberg and Small in the 1950s, but college graduates leave school with loads more debt--$24,301 on average--and aren't any better equipped to pay it off now than they were when Trachtenberg started GW on this course. Delivering newspapers and waiting tables during the summer can't solve a problem that large.
Meanwhile, all those capital outlays to attract the best students have punished university budgets. Many of the facilities Trachtenberg added to the campus in the 1990s, for instance, will need major repairs, such as new air-conditioning or electrical systems, when they hit their 25-year anniversaries, according to Sightlines, a firm that advises colleges and universities on when to schedule construction.
It's a typical problem. The building spree at schools like George Washington has tapered off--Sightlines surveyed 28 large private universities and found that they spent 50 percent less on new space in 2011 than they did in 2009--but it is too late to change the strategy. Colleges like these now have every type of lab, facility, and teaching discipline, but they do not stand out in any one discipline.
Although Trachtenberg hasn't rethought his approach, he now recommends another course for other schools: specialization. That is, schools on the brink of catastrophe--those where endowments and enrollment numbers augur bankruptcy--can be brought back by offering something that can't be found elsewhere. As an example of someone who did this masterfully, Trachtenberg points to Ben Sasse, the new president of Midland University in Fremont, Neb.
Before Sasse moved to Nebraska, he was a sharply dressed, ruthless, 37-year-old crisis-management adviser to the Health and Human Services and Homeland Security departments and the Federal Bureau of Prisons. When he took over what was then called Midland Lutheran College in 2010, he had a history Ph.D. from Yale but no experience in higher-ed administration. The school was on the verge of bankruptcy, so Sasse applied what he learned in Washington (a cousin to Trachtenberg's vodka analogy): The image of an institution is as important as the institution itself.
Sasse knew students wouldn't choose Midland because of its academics; smarter applicants would keep applying to "smarter" schools. So Sasse studied what really drives students to colleges like his: scholarships, location, and a chance to play sports. "Some folks--well-meaning idealists--act as if their undergraduates are just brains without bodies," Sasse says of college recruiters who emphasize academics to the exclusion of everything else. Sasse added bowling, competitive cheer and dance, men's and women's ice hockey, lacrosse, and trap shooting to the school's offerings. He amped up the choir, band, and theater programs. He rebranded Midland's location in Fremont (population 25,000) as the "rural choice for metro Omaha." He dropped "Lutheran" from the school's name because he found the title was deflecting more students than it was attracting. And he added a master's in education leadership to qualify the school as a university, which he says lures more students than a college.
Through all this, he stayed cost-conscious: Midland offers a four-year graduation guarantee if students make passing grades and don't switch majors.
The transformation worked. Sasse saw a 76 percent increase in enrollment between his first and second years at Midland. And the school is now out of bankruptcy without a significant rise in tuition.
George Washington isn't on the verge of bankruptcy, so it hasn't tried to differentiate itself in the way Midland did. Trachtenberg's successor, Steven Knapp, has continued to raise tuition (he says the school is more cost-conscious now than when Trachtenberg was in office), because he says the amenities help form the school's core identity. "It's part of a seamless whole," Knapp says, describing how a campus can affect education. He is in the middle of a $43 million gym renovation.
But how crucial, exactly, is the campus experience? This fall, MIT is launching MITx, a series of Web-based videos that will allow anyone anywhere access its instruction. A woman in Saudi Arabia could obtain a physics degree from MIT for free as long as she can pass and pay for a relatively cheap credentialing exam. Stanford is developing a similar program, and evidence shows the programs will be successful. Other schools have already launched similar online degree programs, including NYU, one of GW's top competitors. As education migrates online, the campus amenities will matter less.
Even taking into consideration student debt, unemployment, and the financial strain on institutions, Trachtenberg is still reluctant to say that students could be attracted to a school simply because of the academics it offers.
"Not many students would have the vision to see that," he says; in other words, they don't think about education the way he did when he chose Columbia in 1955. Their expectations were raised and their visions were refocused by presidents like him. Trachtenberg says that colleges of the future will continue to expand their aid and their campuses. There's nothing in that forecast about "international repute," "academic gravitas," or a "sense of serious scholarship."