How One Economist Created the Most Realistic Fantasy Football League Ever
Fantasy football has tens of millions of fanatical players. But only one league requires its members to negotiate broadcasting rights and labor agreements.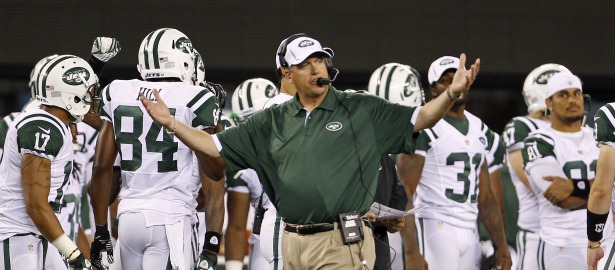 New York Jets coach Rex Ryan; Reuters
So you've assembled the perfect fantasy football team, with your dream quarterback, a stud running back and a sleeper wide receiver or two. The obstacles are fairly predictable. Your running back could get injured. Your wide receiver's QB could break his arm. But what happens if your team goes on strike?
Yes. On strike.

That's the sort of twist that competitors in an unusual business class at Mount St. Mary's University face. The semester-long EconFantasy project revolves around a fantasy football league with a business angle, making it equal parts ESPN and CNBC.

EconFantasy has all the traditional hallmarks of a typical fantasy team. There is an auction draft, aggressive player trading, and a championship trophy. But team owners also are tasked with acting like non-fantasy football owners. They must design the structure of the league, including a revenue sharing model, broadcast rights, bringing in sponsorship deals and even appease labor representatives. In other words, this is one fanatically realistic fantasy league.

"One thing that has always intrigued me in sports management is the balance between competition and cooperation," said Karl W. Einolf, dean of Mount St. Mary's Richard J. Bolte, Sr. School of Business. "The league unites to sell a product, but each franchise is competing for both wins and profits. I wanted to capture that idea in the class ... and I thought it would be cool to use fantasy as a hook."
NOT SO FANTASY, AFTER ALL

Einolf -- who has studied sports economics and focuses on the role of the franchise market -- first came up with the idea of the fantasy league 13 years ago while teaching a sports business class. He had been involved in a fantasy league, one that required checking the newspaper box scores on Monday morning to add up points, and realized he could use it to explain the unique sports business structure.
Nationally, some 32 million people will play fantasy sports in 2012, according to the Fantasy Sports Trade Association. The estimated $800 million business allows fans to assemble teams with real players, then compete based on their real-life performance.
But EconFantasy a requires more than just obsessive game watching and horsetrading. The most successful managers need business acumen. In the popular class, students break into 12 teams and are randomly assigned a real-life market, ranging from tiny Kansas City and Cincinnati to the massive New York City. They then work together to establish a league constitution, complete with revenue sharing (a cooperative agreement can make all franchises profitable), splitting broadcast revenue (teams can opt to pool the money or go it alone), a salary cap system and other business elements.
The managers even have to be prepared to deal with labor unrest. Einolf said that he's introduced player strikes in response to low salaries to see how managers respond on the fly.
From there, teams play like a normal league -- there's a two-day auction where owners fill out 14-player rosters (rather than paying a flat fee from a budget, as in a traditional auction, teams in EconFantasy bid on salaries starting with a minimum $500,000). Teams pair up each week and compete as usual, although they also get information on attendance and revenue. At the end of the season, eight teams make the playoffs, with trophies for the winner and the best-run franchise (the four last-place teams compete in the league's "Toilet Bowl" for a four-pack of Charmin toilet paper).
The idea, Einolf said, is to give a taste of what it really takes to run a franchise. Good teams will bring in more sponsorship money. Struggling teams will have to deal with plummeting attendance, especially in small cities with fewer fans. Away teams have to budget for travel costs, while home teams have to negotiate a fair way to split the gate. Teams losing out on broadcast revenue may have to jack up concession prices to meet their budget, while successful ones may have money to throw around for pricey free agents.
DON'T PICK FIRST

Players even have to deal with the added wrinkle of differing market size and the challenges of competing with a tight budget. Students unlucky enough to be assigned to one of the small markets (Pittsburgh and San Diego also rank low among the 12 in the class) even get a taste of the challenges of dealing with a smaller fanbase. They've got fewer chances for sponsorships, less money, lower ticket revenue and less influence on the league. It's not uncommon, Einolf said, to see the small teams band together to share broadcasting revenue or form a voting bloc in league negotiations.
Plus, Einolf said, there's a certain advantage to being a small market. Just like the real-life New York media, he said his class puts pressure on the big markets to succeed and succeed fast.
"Some of them think they can conquer the world by spending all of this money and winning, but they end up losing," he said. "There's a lot of luck and skill involved."
Any fantasy league will have plenty of discussion (my league, for example, strung together a 90+ email chain just to change our policy on vetoing trades). And any fantasy player gets a small taste of economics, whether its balancing the value of players in a trade or working through a free agent budget.
But Einolf said that there's more competition than cooperation -- more smack talk than negotiation -- in a simulation that doesn't capture the realities of a sports league. In real life, he said, teams actually have to work together more than they can compete to make the entire league successful.
That's why the NFL franchises tend to be more efficient than those in Major League Baseball, Einolf found in a 2004 study. In football, the salary cap means that teams by and large cannot overspend for an inferior product and the shared revenue floats all boats, while in baseball media-rich teams can simply pour money into the team.
And looking for an insider's wisdom on winning your own fantasy league? Einolf says the key to winning is just like dealing with any financial instrument: Diversify.
In a standard snake draft -- where 12 teams pick in order then reverse for each consecutive round -- that means avoiding the top pick.
"One of the worst things is being in the first position in the draft, because you get that player and then you're not coming up until the 24th pick. You're stuck with all your eggs in one basket," he said. "I will always trade away that first position. The best place to be is that 12th and 13th spot, because that's where you start to find value players."
>