How Does 'QE' Work? Does It Even Work, at All?
The Federal Reserve announced a big new round of quantitative easing, or QE, this afternoon, which has the markets positively thrilled.* This is the Federal Reserve using its small but mighty bag of tricks -- lowering interest rates and getting cash to big banks with the hopes that they will lend it out -- all for the purpose of stimulating the economy.
But does it even work? Depends on what you mean by "it."

There have been two (and a half) rounds of QE so far. The first round, starting in late 2008, prevented a Great Depression. As you'll recall, we didn't have a Great Depression. In fact, the recession ended in July 2009. It's pretty clear that Federal Reserve's extraordinary actions saved the economy.

The second round (and a half, if you count "operation twist") fought deflation and a moribund housing market. How did that work? The record is less clear. After all, we're still facing the same crisis of long-term unemployment, high joblessness and slow growth that we faced two years ago.

On the other hand, consider the stock market. The Wall Street Journal compiled a great visual showing instances of QE plotted against the Dow. QE should encourage families to take out loans and businesses to expand operations, and we've seen the stock market rise with each round of easing.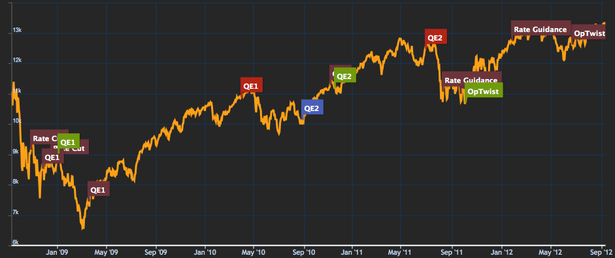 A rising stock market isn't just good news for large companies and investors. It can also help overall consumer spending. In an impassioned defense of QE2, economist Martin Feldstein noted that the economy's strong rally at the end of 2010 was driven by a sharp increase in real personal spending, which in turn was driven by a decline in the savings rate and a sharp increase in the stock market. "There is no proof that QE2 led to the stock-market rise, or that the stock-market rise caused the increase in consumer spending," Feldstein admitted, "but the timing of the stock-market rise, and the lack of any other reason for a sharp rise in consumer spending, makes that chain of events look very plausible."
As for today, the widely expected third round of QE is an acknowledgement that, for all our efforts, the recovery doesn't look much like a recovery. As Zachary Goldfarb explained for the Washington Post, this isn't about avoiding a depression so much as avoiding "the lost decade that Japan suffered after its financial crisis and that Europe seems increasingly likely to face now."
____________________________________
*Updated to reflect the day's announcement.