Happy Birthday Occupy! (Income Inequality's Still Getting Worse)
Occupy Wall Street may well have been the first global protest movement to rally around a statistic cribbed from an economics paper. So to mark its one year anniversary today, I thought I'd break out some of the latest numbers tracking U.S. inequality, courtesy of this month's Census Bureau recent report on income, poverty, and health insurance coverage.
From 2010 to 2011, the top 5 percent of U.S. households upped their share of the country's income by 5.3 percent. The top 20 percent got a 1.6 percent bump. And while the country's poorest saw their piece of the pie grow by a smidgen, the middle classes lost ground.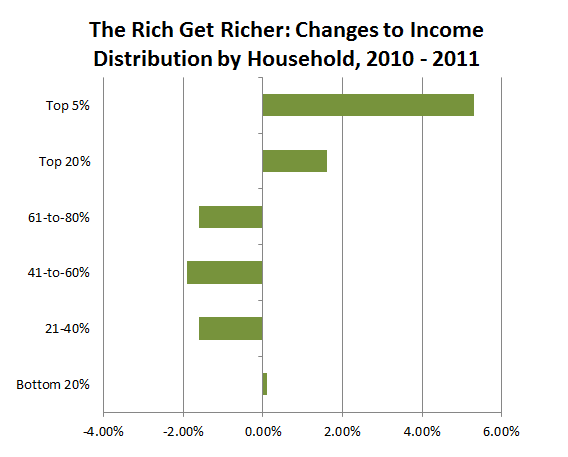 These data are equivalence adjusted, meaning they're tweaked to take into the account of how many people live in each household. So as much as possible, we're looking at an apples to apples comparison between individuals and families across the economy. In the end, the Gini index, one of the more popular measures of income distribution, popped up 1.7 percent. The rich are indeed getting richer.
Just how rich? The wealthiest 20 percent of all households currently lay claim to about half of the income in the country. according to the Census. The top five percent have a bit more than 22 percent. (Worth noting: Piketty, Saez, and Atkinson's famous estimates peg the top 1 percent's share alone at around 20 percent, so take these figures as rough very guidelines).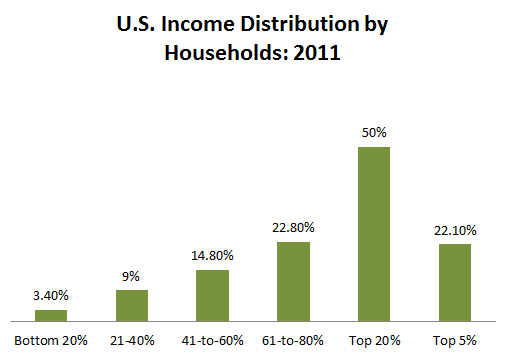 Here are a few quick reasons why even more money might be flowing to the top of our economy these days. Since the recession, jobs growth has been strongest for those with a college degree. Meanwhile, the middle-income jobs that disappeared as the economy came tumbling down have been replaced largely by low-paid service sector work. And while these numbers don't tell us about the state of the 1 percent, the recovery of the financial markets and corporate profits has no doubt been kind to their bank accounts.
Depending on where you sat, OWS was worldwide reaction to lot of very important things or to nothing in particular. From where I sit, it was a messy, often misguided, but also  illuminating public cry against income inequality. The occupiers might be quieter these days, but they just might have more to be mad about than ever.