Freezing Out Workers: What the NHL's Looming Crack-Up Says About Sports Labor
In 2004, professional hockey experienced an unprecedented full-season lockout before returning to profitability. So why are players being asked to take another cut?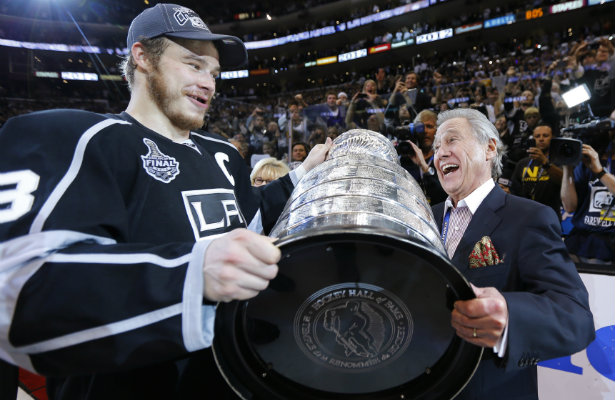 In 2004, the National Hockey League shambled into a season-ending labor lockout that turned out to be a financial blessing. The owners and players struck a deal that cleared away years of accumulated problems and revitalized a sport that had seemed to be nearing collapse.
Yet less than a decade later, the league is on the brink of another full-scale crackup. The owners and Players' Association are locking horns once again, this time over a far pettier set of issues, and if they can't negotiate a new collective bargaining agreement by September 15th, they may be forced to start cancelling games.
What's going on? It seems that sports owners may be learning a frightening lesson: lockouts, even when they're over small bore stuff, can turn out to be very good for business.
The NHL was hurtling towards a much-needed reckoning before the 2004-05 lockout, the only labor stoppage in the history of major North American professional sports to wipe out a league's entire season. In its 2004 feature on the business of hockey, Forbes reported that 17 of 30 NHL teams had posted a financial loss the previous season, and that owners had hemorrhaged $210 million over the previous two years. As California State University economist Paul Staudohar explained in a paper for the U.S. government's Bureau of Labor Statistics, the league's national television revenue had dwindled to a piddling $2 million per team by 2003, a time when breakneck expansion into nontraditional markets (the NHL exploded from 22 to 30 teams between 1992 and 2000) had thrown the NHL's finances--and its talent pool--into flux.
The NHL was stuck with failing franchises in a climate where salaries were eating into somewhere between 66 and 76 percent of ownership's diminishing revenue streams. Players, meanwhile, wouldn't agree to the kind of aggressive salary controls that their bosses said they needed. The sides only agreed to a collective bargaining agreement 301 days and one canceled season later. The owners got virtually everything they wanted, including a hard salary cap and a 24 percent rollback in player salaries.
The bloodletting of '05 produced a wiser and better league. In the wake of the lockout, the NHL rehabilitated its suffering on-ice product, instituting rules changes that opened up play, and introducing innovations like shootouts, the goalie trapezoid, and four-on-four overtime. The NHL proved willing to experiment, overhauling the all-star game's format and inaugurating its hugely-popular Winter Classic. Last season, the league reversed two of the most emblematic missteps of the pre-lockout era--expanding into hockey wasteland of Atlanta and relocating puck-crazy Winnepeg's beloved Jets--in a single masterstroke.
The NHL is in the middle of what should be its golden age. Twenty-one of the league's teams played their home games at 95% capacity or higher last season; 16 of them sold out every home game. The league just signed the largest national television deal in its history, and last year marked the first time that every game of the two-month long Stanley Cup playoffs was available to American TV viewers. This year's Winter Classic--if it happens--will draw over 100,000 fans to Michigan Stadium for a game between the Detroit Red Wings and Toronto Maple Leafs, teams with a combined franchise value of over $850 million. While the league is saddled with several struggling and probably non-viable franchises (the bankrupt Phoenix Coyotes and reeling New York Islanders come to mind), there are hockey-mad markets on either side of the U.S.-Canadian border that could easily accommodate an NHL franchise. The NHL is a profitable league with a global profile, a stable of marketable stars, and actual growth potential. The pre-lockout mania of exploding salaries, unstable profits, and agonizing hockey is behind it.
So why jeopardize everything now? The 2005 agreement allowed player salaries to creep up to as high as 57% of league revenue, according to Leo Kehane, a professor and sports economist at Providence College. The NHL is still saddled with several underperforming franchises stuck in markets where hockey may never catch on, and Kahane says that the current system still squeezes teams like the Columbus Blue Jackets and Florida Panthers. "Revenues are pretty thin for some of the teams," he says. "The current policy in the soon-to-expire CBA really does put some teams in a tough place." For some owners, the desired 50-50 split in revenue between players and ownership, which would be similar to the NBA and NFL's arrangements, is partly grounded in the need to sure up vulnerable franchises.
But this isn't 2004. Nuking the league was arguably a rational choice back when the NHL was a failing enterprise. Ironically, the success of the '04-'05 lockout might have convinced owners that even a potentially season-wrecking labor dispute won't have an adverse long-term effect on their investments. "Ultimately the collective bargaining agreement that emerged from [the lockout] almost completely favored the owners," says Kahane. The owners can also afford to be a bit more patient than their employees, particularly after the players' union's near-universal failure the last time around. "I don't know if the players have enough in their arsenal to pull off a strike and benefit from it," Kehana says.
In that sense, the NHL is no different from the NBA and NFL, which experienced 130 and 181-day lockouts, respectively, when those leagues' collective bargaining agreements were up for renewal last year. It turns out that NFL and NBA owners had risked very little in attempting to strong-arm players into a more favorable split of revenue. The NFL season began on time, and last year's NBA playoffs were amongst the most watched in history, despite the cancelation of 16 regular season games per team. For NBA owners, gambling with largely-meaningless early-season games was worth the potential billions in future revenue they secured for themselves by taking a hard line against the league's players' union.
There's no better evidence that NHL owners were watching the other leagues' aggressive tactics--as well as the players' eventual capitulation--than their demand for an astronomical 57% of league revenue when CBA negotiations opened two weeks ago. The NHL owners still want a 50-50 or better split in revenue, and they are convinced that they get it at relatively little risk. "The players are not stupid," says Allen Sanderson, an economist at the University of Chicago. "But the owners are not stupid either. They've got to be looking at what happened at in the NFL and NBA and betting that they're going to prevail."