Every Job We Created and Lost in the Last 5 Years—in 2 Graphs
The Great Recession hit rock bottom in February 2010. If you compare jobs lost two years before the trough with 30 months after the trough, you'll find only three large sectors have made up their losses:

-- Mining (extractors, operators, engineers), which is up 90,000.

-- Utilities (repairers, installers, more engineers), which is up 11,000.

-- Leisure & Hospitality (fitness trainers, artists, plus everybody who works with food, hotels, or parks), which is up 102,000.
Besides health care and education, which never stopped growing, every other major job sector is net negative compared to five years ago. These graphs from today's Bloomberg Brief by Scott Johnson.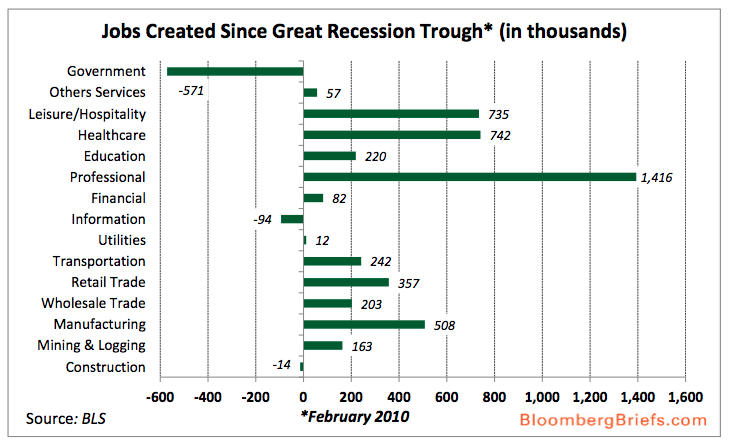 An amazing thing about the health care sector is that it expanded at the same rate both approaching the unemployment trough and coming out of it. Government is the odd duck, growing as unemployment increased and shedding jobs as the economy grew.

>