An Awful Jobs Report for Young People
For most Americans, today's jobs report was merely bad. For young people, though, the news was just downright awful.
After declining for most of the summer, the unemployment rate for workers between the ages of 16 and 19 popped up again, rising from 23.8 percent to 24.6 percent. Among 20-to-24 year olds, it hopped to 13.9 percent from 13.5 percent in July.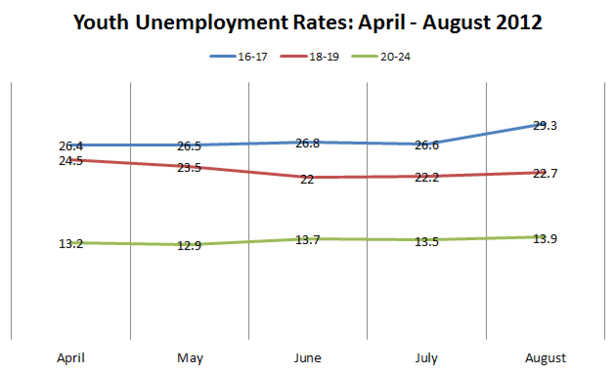 These numbers don't necessarily mean that thousands of young people are suddenly getting laid off again. Rather, they're a sign of how hard it still is for teens and early twenty-somethings to find work. Here's why: As University of Michigan economist Betsy Stevenson explained on Twitter, the number of unemployed young people usually falls this time of year. This August, though, it dropped less than usual. So when the government's statisticians went in and made their seasonal adjustments, the unemployment rate rose.
In short, there are a lot more young adults still sitting at their computers, scrounging around jobs boards for work than there should be at this point in the year.
There are other subtle and discouraging aspects of this report for the young. One of the only industries to add significant numbers of workers was food services, which accounted for 28,300 of the 95,000 total new jobs. Restaurant and fast food work is usually a bastion for teenage employment. If that sector is growing, and young people still can't find employment, it may mean that older workers are now out-competing them for low wage jobs.
The job market is stagnant for almost everyone. Let's hope it's not about to start deteriorating further for the young.