Why the Future of TV Might Feel Really Boring
The end of the cable bundle feels like it's right around the corner. What if it's ... never?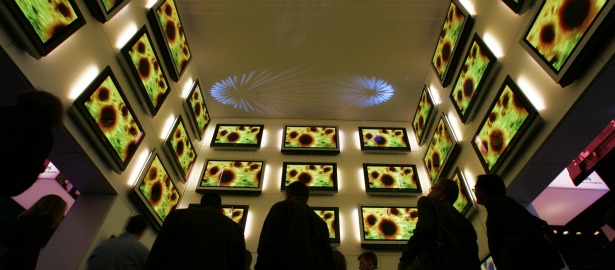 Reuters
The dream future of TV is that cord-cutting takes over the mainstream, and we live in a world of what-you-want-when-you-want-it video. Having smashed newspapers and music, the Internet, that lane-wide bowling ball of disruption, lays flat the cable bundle and we all live happily ever after surrounded by cheaper television that plays on any one of our many large and small screens.
The Cordless Future is possible -- and maybe, with enough time and a few unforeseen disruptions, probable. But as Comcast CEO Brian Roberts reveals in an interview with Bloomberg Businessweek, there's one word that complicates the Cordless vision, and that word is "additive."

Why should I be a Comcast subscriber, rather than just getting by with Netflix (NFLX)?
We provide a breadth of live and catch-up content--what we define as this season's content, none of which is available in the Netflix rerun world. So from broadcast television to sports to news to the Grammys, the Olympics, this season's episodes of The Voice--all of those pieces of content and thousands of hours per month are not available on Netflix. So with all the press about cord-cutting, facts would say that [Netflix] has really been more additive. There are more multichannel video subscribers today than there were a year ago. People want more control, more choice, and more personalization. [My emphasis]

To use the most common comparison of cord-cutters -- that video must follow the path of music because they are both downloadable entertainment -- the music companies didn't strike a deal with iTunes because they were feeling jaunty and innovative. They struck a deal because they were getting crushed by illegal downloads and they were desperate to try anything to monetize their product. As long as programs like Netflix and Hulu aren't obviously stealing so much eyeball-time from television that pay-TV subscribers fall off a cliff and cable providers and media companies are forced to renegotiate new contracts to maximize what little revenue they have left to salvage, there's really no reason to think the end of the bundle is so terribly imminent.
If you believe the Nielsen figures (which have their detractors, but anyway, it's what we've got), the typical American still watched about 5 hours of video a day in early 2012, and nearly 90% of it happened on the tube, with live-TV-viewing down about 3 percent in the last four years to 4:38 hours a day. In a glorious example of additive screens: More tablet owners said they watch more TV now that they own a tablet than less TV (11%-10%), and the vast majority said it had no impact.
In short, I think the conditions for the end of the TV as we know it and the death of the cable bundle are, in fact, largely in place. Except for one. And it's a biggie. As long as Americans still love to watch live TV, the media companies aren't about to put their shows in the hands of a "disruptive" company at a favorable price. That means that great TV video content will continue to feel just as expensive as it is.