Why Mitt Romney's Tax Plan Just Won't Work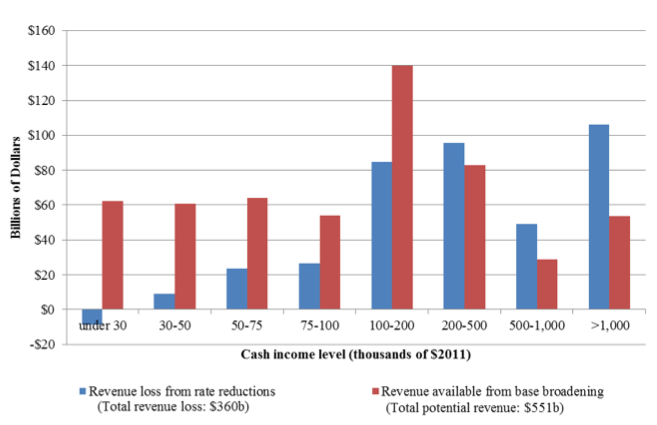 Mitt Romney's plan to reform the tax code would raise taxes on the middle class.
That was the striking and controversial conclusion reached by the Tax Policy Center last week. Today, TPC released an FAQ about their findings. You can read it, or you can look at the graph above and soak in three simple facts about federal income taxes.
(1) Households making more than $200,000 pay a disproportionate share of income taxes;
(2) If you cut federal income tax rates, households over $200,000 will see disproportionate savings (BLUE BARS);
(3) In fact, they will see such huge savings that you couldn't cut enough non-investment-related tax spending (RED BAR) to achieve revenue neutrality, even if you tried.
The inevitable result is a $86 billion shortfall that can only be made up by raising taxes on some people making under $200,000. In other words, as it stands, Mitt Romney's tax plan is something that nobody in either party would vote for and he probably wouldn't even endorse, publicly.
And it doesn't have to be this way. Romney wants to deeply slash income tax rates and achieve revenue neutrality without raising taxes on middle-income voters. It's not possible under his plan. But it is possible. The last Bowles-Simpson framework showed how: Raise capital gains taxes.
That would make investment income taxed at a rate closer to regular income. It would also probably raise taxes on the richest 2%. (Not as much as the Obama plan, which basically and unsatisfactorily pushes all new revenue into the top two percentiles to adhere to his old campaign promise.) But Romney hasn't agreed to anything like that plan. Nor has he agreed to specifying how he'd eliminate deductions to pay for this tax proposal.


That's the problem with running on vague principles and refusing to identify how your tax plan would do what you say it would do. If Romney doesn't want researchers defining his tax and budget agenda for him, he should go ahead and define his tax and budget agenda.