Who's Killing Coal: Obama or the Market?
Here in the United States, coal is in decline. It's producing the smallest percentage of our electricity since the 1970s, we're burning less of it overall, and prices have dropped drastically.
One reason is that America is in the midst of a natural gas boom that's provided utilities with a cheap, efficient, and (comparatively) clean source of power. But some, including the Economist, have also pointed to Obama administration environmental regulations as hastening the switch. So what's really killing coal: the market or our current president?
The market, says this graph from the Energy Information Administration. The chart breaks down America's electricity supply by source and the year it started operating. And here's the basic take-away: natural gas was trouncing coal all through the Bush administration. What we've seen under Obama has been the continuation of a trend.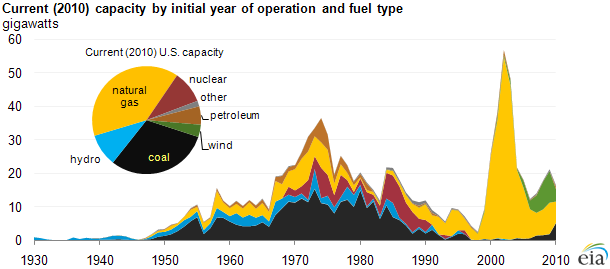 None of this is meant to suggest that Obama-era environmental regulations haven't had any impact on coal. It is also quite plausible to argue that earlier regulations tilted the scales in natural gas' favor. And it's possible that the EPA's proposed limits on greenhouse gas emissions for new power plants might really turn out to be a de facto ban on coal, as some have suggested.
But it's clear that coal's decline has been a long time in the making.