What's the Single Best Explanation for Middle-Class Decline?
Here's one answer: In the age of globalized profits, all job creation is local.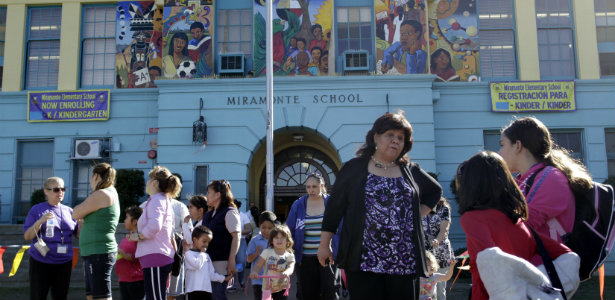 Reuters
Median household income is in the middle of its worst 12-year period since the Great Depression. David Leonhardt and the New York Times have launched a feature to investigate the hardest question: Why?
I don't know! Or at least, I have no confidence that I understand exactly which issues had exactly what effect on the stagnation. The flat-lining of middle class wages is probably the most important long-term economic story in the United States, and its roots stretch deep into such far-flung themes as how technological changes hurt unions and how the subsidy for employer-provided insurance contributed to escalating health care costs.

When I write about income stagnation apart from the Great Recession, I typically rely on a trio of explanations: Globalization, technology, and health care.

Competition drives down costs. Shoppers understand this, intuitively. One reason that flat-screen TV prices have fallen so much in the last ten years is that so many electronics companies have gotten efficient at making them. Similarly, competition for jobs in tradable goods and services -- manufacturing that could be done in China; retail that's simpler on Amazon -- competes down the price employers pay workers in those industries. It makes many workers borderline-replaceable and nothing borderline-replaceable is expensive. Those forces drove down wages, and employer-side health care costs gnawed at the rest of it.
But these are fairly predictable answers. So here's something weirder and more colorful: As economics went global, job creation went local. That sounds totally backward. But it's true.

Here's a graph of job creation by industry since 1939. The graph tells a lot of stories, but I'll call out two. Manufacturing -- a strong force for unions and median income growth -- really starts to collapse just as our current 12-year slump commences. That can't just be a coincidence. But now look at "Ed/Med" which is the education and health care industries. Uniquely among sectors, this segment defy the laws of cyclicality. It just goes up!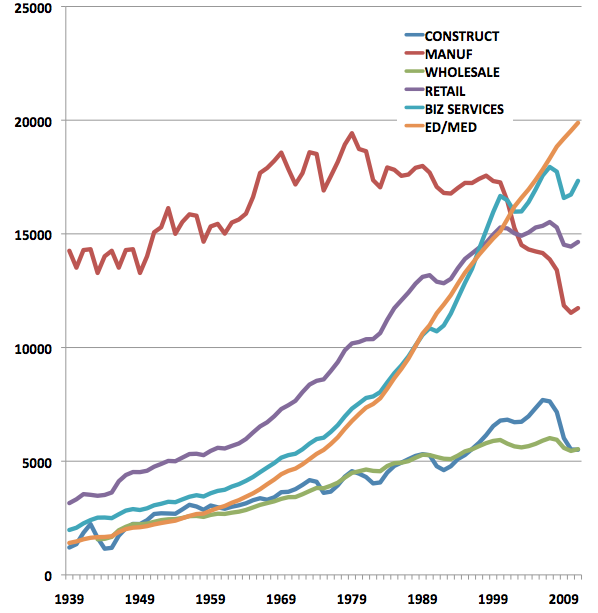 About half of the jobs created between 1990 and 2008 (before our current downturn) were created in education, health care, and government. What do those sectors have in common? They're all local. You can't send them to Korea. As Michael Spence has explained, corporations have gotten so good at "creating and managing global supply chains" that large companies no longer grow much in the United States. They expand abroad. As a result, the vast majority (more than 97%, Spence says!) of job creation now happens in so-called nontradable sectors -- those that exist outside of the global supply chain -- that are often low-profit-margin businesses, like a hospital, or else not even businesses at all, like a school or mayor's office.

It is both ironic and unavoidably true that the era of globalized profits has dovetailed with the era of localized job creation in low value-added industries, and that the upshot of this has been massive gains at the top and slow overall income growth for the rest of us.