What a 1925 Ad for The Great Gatsby Tells Us About Book Prices
If you were a Princeton undergrad in 1925, and you happened to be reading lacrosse team news from the school newspaper, you might well have stopped and glanced at this ad for the brand new novel from F. Scott Fitzgerald: The Great Gatsby.
If you were to buy said novel, it would cost you $2, or $26.18 adjusted for inflation -- roughly the price of a hardcover today.
As The Awl found earlier this year when it compared several decades worth of New York Times best sellers, the cost of a new book in the U.S. has stayed remarkably even over time. By contrast, if you bought a movie ticket back in 1925, it would have cost you around $0.25, or $3.27 in present dollars. Today, it would run you around $8.00.
The average family is now vastly more wealthy than they were in the '20s, which in turn means books are much more affordable. But it's fascinating to see that publishing houses have essentially been finding new material and debuting it at roughly the same price point for almost a century. I can't say precisely why that's the case. But if I had to guess, I'd venture that it's because the production of a book hasn't fundamentally changed much since Fitzgerald's days, while film making been completely transformed. Publishers are also a frighty bunch, prone to worrying about the death of their industry, and nervous about hiking the price of a bundle of pages in a digital entertainment world. That just might have something to do with it too.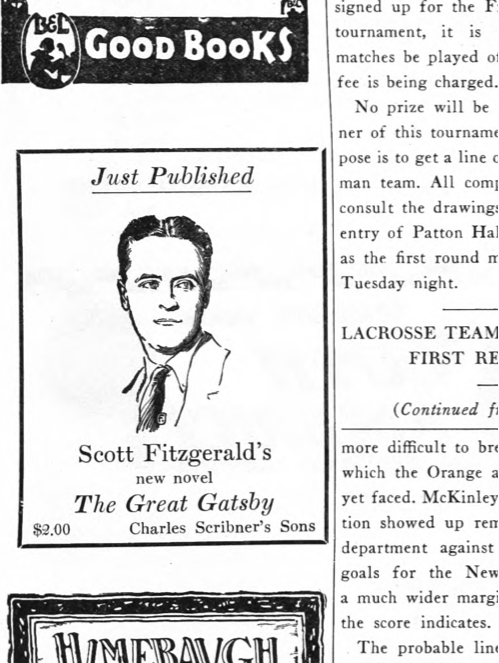 Credit to Fast Company editor Jason Feifer who discovered the ad and tweeted it out.