We Now Have Our Smallest Government in 45 Years
Since the official end of the Great Recession, America's public sector has shrunk. And shrunk. And shrunk some more. We've said goodbye to about 600,000 government jobs, handing the economy a nasty self-inflicted wound in the process.
But how small has our public sector really become? Here's one way to think about it: Compared to our population, it hasn't been this size since 1968. Your dreams are coming true Baby Boomers. We're almost all the way back to the Summer of Love!
First, credit where it's due. The Hamilton Project has produced a beautiful graph illustrating the government employment to population ratio. As it shows, there are now fewer public sector employees per American than at any time dating back to the Carter administration (To be clear, we're talking state, federal, and local here).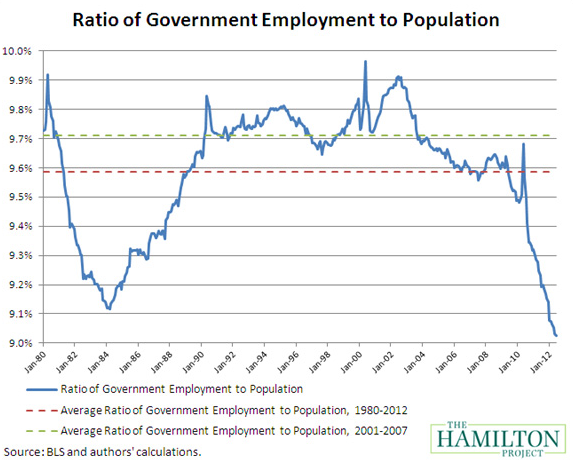 To match where we are now, though, you actually have to head back to the days of LBJ. The graph below compares the number of government workers to our civilian, non-institutional population all the way to 1950. Again, we're right where we were in 1968.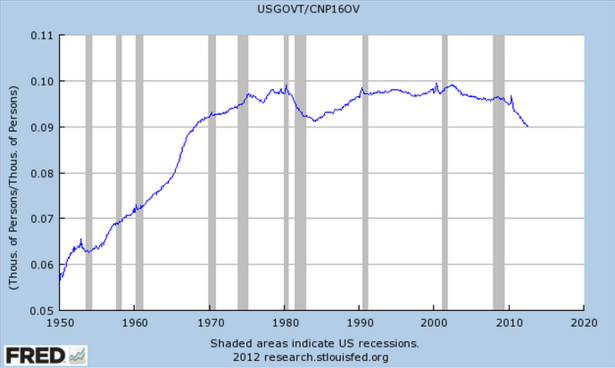 So how badly has this actually hurt the job market? The Hamilton folks estimate that, if the share of government workers was back to 2007 levels, we'd have about 1.7 million more jobs than we do today. Now, did we have the balance right before the recession? That's for a much longer conversation. But it's certainly food for thought.