Vacation Nation: 'I Have Solved More Problems on a Walk Than Brainstorming'
The vast majority of Americans don't use all of their vacation days. Are we afraid to leave work, or do we misunderstand how important a break can be? I asked you to tell me about your vacation philosophy and experience. Here are the best answers about from readers who say they've figured out how to balance time on and time off. Keep writing!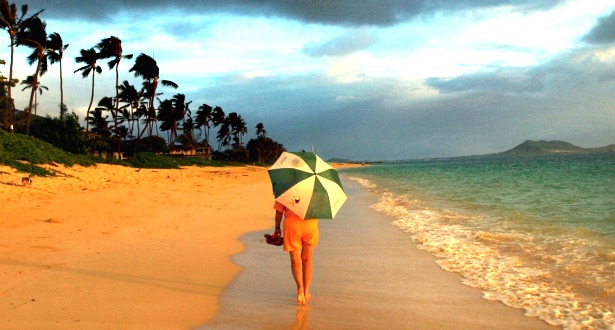 Reuters
"I am more productive because of vacations. I have solved more problems while on a walk than ... brainstorming."
I use breaks and vacations to let go of the stress and all of the other stuff you deal with on a daily basis. I take breaks daily to walk for half an hour or so. This helps me to get back to center and it relieves stress. It also gives me an opportunity to think quietly about any problems and an appropriate solution. I have solved more problems while on a walk than I ever have been able to come up with during the stress of a meeting or brainstorming session. Walking keeps me in shape physically and mentally. I use vacation time to completely let go of work. It is a time to re-charge the batteries and focus on the things that I enjoy. I try to leave all the things associated with work at the office. Everyone likes to think that the company won't function without their presence, but it just isn't true. They will find a way to manage without you. When I am on vacation, I turn off the cell and shut down the computer. I go completely offline for the duration. When I get back to work, I am completely refreshed and ready to jump back into my work life. I am more productive and efficient because of breaks and vacations. I don't feel the "burn out" that comes with working long hours under stressful conditions. I can stay calm and positive under pressure and meet new challenges eagerly. Breaks and vacations are a vital part of my work/home balance. -- Samantha Brown
HOW TO TURN A BUSINESS TRIP INTO A REAL TRIP

I found one of the best ways was to simply tack on some extra days for myself on the back of any business trip I was taking. I used to travel all over the world for work, to places I never would have taken the initiative to go to independently, and it was a really nice way to unwind, see the world, and appreciate what my profession has given me. And it was cheap cheap cheap. Nothing like free/cheap things to make you relax and really enjoy your present! -- Diane DeWindt
"I want the longest possible vacations, which means no mini vacations using up vacation time."
Here's a different--possibly more European (my parents were immigrants) take on vacations. I've never thought of vacations as part of making me more productive (although I think they do). I think of them as times to do the things I enjoy and don't have time to do during the course of work. Because there is a whole world out there to see and many things to experience, I've never thought of a vacation as a time to sit around the pool and read a book. I want to explore, to hike, to bike, to go to museums, to eat new food, and to travel as much as possible. Resorts hold zero interest for me. They feel like gilded prisons. I want to be part of the larger world and get to know as much of it as possible. I want the longest possible vacations, which means no mini vacations using up vacation time. That also means traveling on the cheap, even with kids. Camping has always been big in our family as is mooching on relatives in distant places. The biggest concession I ever made to work was to try to get home relatively early on the day before going back to work instead of at 10pm but many is the time we got off the plane after 10 or 12 hours of flying and went to work at 8 the next morning. - celeidth
THE DOUBLE-EDGED SWORD OF SELF-EMPLOYMENT
I am self employed and so I only get paid when I produce work. On the other hand, I set my own schedule. There are times when the job requires an exhausting pace and times when I worry about having enough work. But because my avocation and my vocation are closely linked I have a hard time actually distinguishing between work and non-work. A lot of what I do for my own edification is related to my work, which is in an arts field. There is no one but myself to blame when I push myself more than might be healthy or productive, but I still often do. -- Laura Lee
"Vacation makes me a better and happier worker"

My company offers 3 weeks of vacation and 2 personal days in your first full year. After 5 years you can accrue another week of vacation and after 10, another, for a maximum of 5 weeks. We also close for the week between Christmas and New Year's Day. It's quite generous for the United States. I use it in a variety of ways - I'm married without children so we usually take at least one adventurous vacation (i.e. 2 weeks in Argentina or Africa, or a week or so in Europe) as well as one low-key summer vacation (a week at the beach somewhere close to home), and over Christmas we usually ski. I try to fully unplug, but it's not always possible. Lately I've been unplugging from email, but leaving a contact number if there is an emergency. I think using my vacation makes me a better and happier worker and a nicer person! - Amanda Guccione
"Everyone gets their birthday off"
My company has an excellent leave policy: 3 weeks vacation after a year, 4 weeks after 5, 5 weeks after 10 and 6 weeks after 15 and people actually get to use their days. We're a very specialized tech co. and know this is unusual in the tech sector, but we want to give people an incentive to stay. Everyone gets their birthday off, and 2 other floating holidays. Statutories are: MLK, President's, Memorial, July 4, Labor, Thanksgiving and Christmas. Most people use a vacation day or floater for the day after Thanksgiving and for Christmas Eve. We give five sick days, but for stuff like doctor appointments and the like people can come in early/stay late to make up the time and not have to use any hours. - scott_lewis
THE CASE FOR A 4-DAY WORK WEEK

I'd enjoy a 4 day work week, even if it meant coming in earlier or staying a little later during the week. I've also heard of a few companies that shut down at after 1:00 on Fridays. If companies aren't going to give us paid time off or paid vacations - this seems like a fair tradeoff. Plus, I know I'm not really productive after lunch on Fridays. - Ellen Grennier

'Unlimited vacation [makes] employees feel more responsible'

Unlimited vacation is the way to go. A friend's company recently mandated this & it works for the good. Employees feel more responsible about the time and effort they put in to work, & can take an extra Friday off, that extra week at the cottage. -  verbadjectivenoun

>