The 3 Charts That 'Prove' Obama Will Be Crushed in the Election
How bad will Obama lose in November? Real bad. And people've got charts to prove it. There's this one, from Jim Pethokoukis, predicting a blood bath for incumbents based on a formula that incorporates both economic growth and military fatalities:
... and this one, via Chris Cillizza, comparing jobs gained by presidential term since Harry Truman: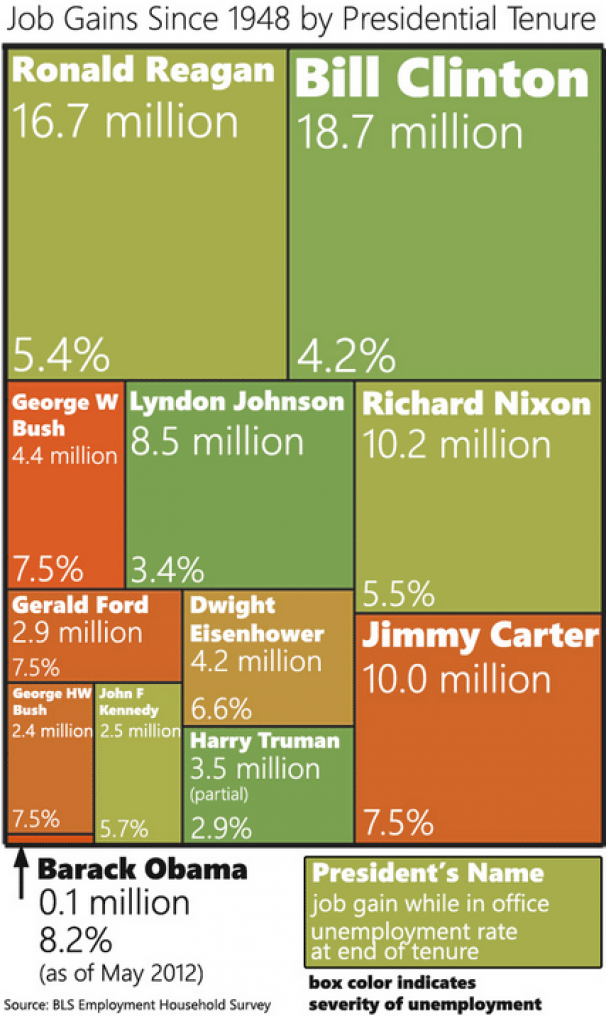 ... and, finally, this one, also from AEI Ideas, benchmarking Obama's performance against some statistics that correlate with reelection: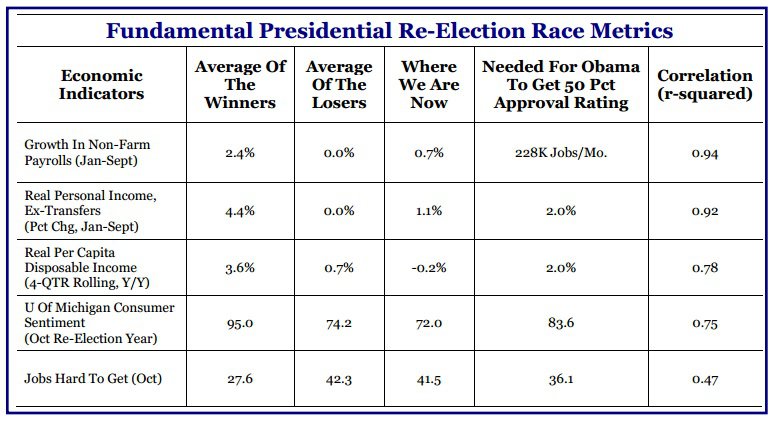 It's all bad news. Obama's record looks like a loser. And yet: In latest polling (90+ days before the election), the president is up 3 percentage points nationally, 1% in Florida, 3% in Virginia, 5% in Ohio, and 6%+ in Wisconsin, Michigan, and Pennsylvania.

What's going on here?

It's important to be clear about what these charts tell us and what they don't tell us. They do tell us that Obama's total jobs record is pathetic compared to much of the 20th century. They do tell us that real personal income growth under this president, the most prescient statistic for incumbents, has tracked much closer to past losers than past winners.
But they don't tell us anything about the mind of today's voter, and they don't give us much insight into how voters make decisions. This will sound awfully glib, but one problem with extrapolating trends from the 1960s, '70s, and '80s to predict a big Obama loss is that it's not the 1960s, '70s, or '80s. Voters don't compare jobs added in September 2012 with September 1962 to make a decision. They're much more likely to compare November's candidates on a bunch of proximate tangible factors (e.g.: their tax plans) and intuitive, intangible ones (e.g.: the you-really-get-me particle). To the extent that they're judging the economy, it's more reasonable to expect voters who don't have time or energy to read about the last half century of economic growth to judge the economy by benchmarking it against their recent expectations. It did not help the country that President George W. Bush's economic record was miserable, but from the standpoint of low-balling expectations, it's not crazy to say it might be helping Obama.

This will surely look like I'm making excuses for the president's record. Quite the opposite, I'm trying to make sense of voters, who are stiff-arming statistical analysis by (so far) sticking with the beleaguered incumbent. The only reasonable conclusion is that, unlike AEI, they aren't looking at this election as a choice between Reagan's jobs record and Obama's.