Reminder: This Recovery Stinks, and So Did the Last One
"In January 2001, Bill Clinton's final month in office, 132.4 million Americans were employed," Jim Tankersley writes. "Eleven years and six months later, that number has grown all the way to 133 million."
Since the turn of the Millennium, the U.S. economy added more than 30 million working-age people, but total jobs grew by only 600,000. That's a lost decade.
And it's come after two lost recoveries. Here's a look at the first terms of Obama and George W. Bush, showing the share of total jobs, and private sector jobs, lost and gained by June of their reelection year. Both presidents inherited a crisis they didn't create, and it's possible that both will go down in history failing to finish the term with even one net new job.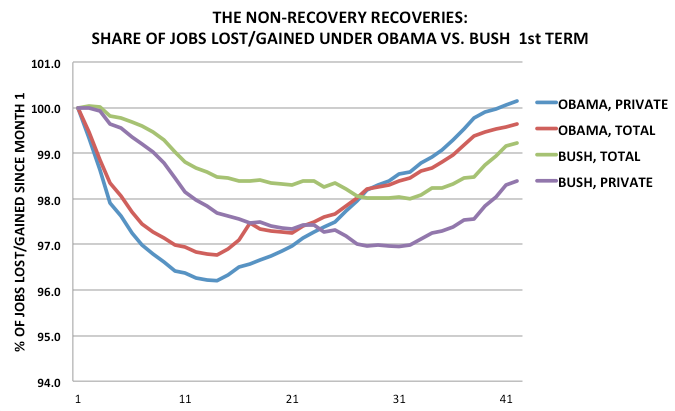 But here's the surprise: Bush's term coincided with a surprising growth in total government employment, while Obama' has presided over the loss of more than 600,000 public sector jobs. So the next graph isolates the
private sector
performance for Obama and Bush. (When I wondered aloud
if people might be benchmarking economic expectations to recent history
, this is the sort of expectation low-balling I was talking about.)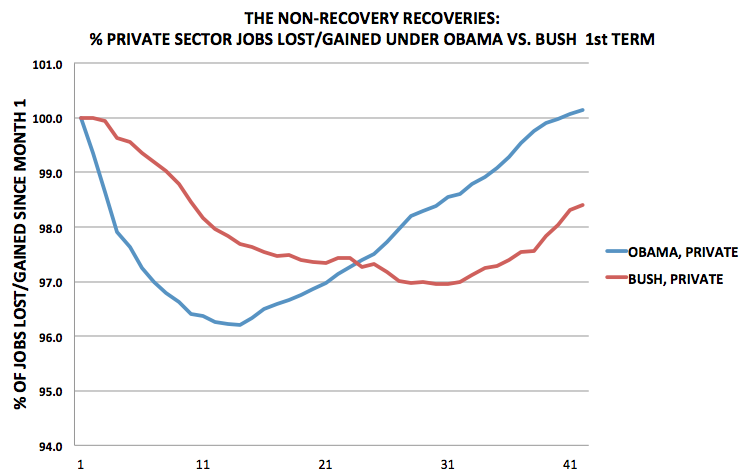 We don't have an Obama problem or a Bush problem. We've just got a problem. And a government too feckless and divided to recognize or respond to it.