How Young Homeowners Lost Out by Buying
Thanks to a bad economy, high debt, and a trend toward smaller urban living, the Millennials will likely be a generation of renters for years to come. Derek Thompson and I explore the consequences of that reality in our piece for this month's Atlantic. But there's a group of young adults we don't talk about that deserves some attention: Those who are already homeowners.
So how has the investment turned out them? For a large portion, not well.
Last week, the real estate researchers at Zillow released their report on underwater homeowners -- those who owe more on their mortgage than their house is worth -- for the second quarter of 2012. They estimate that 48 percent of mortgage borrowers younger than 40 are currently underwater. It's 39 percent among those who are 20-24 years old; 48 percent for the 25-29 cohort; and 51 percent for the 30-34 demographic. Overall, they're more likely to be underwater than middle aged and elderly owners, a result of the fact that many Millennials were buying at the peak of the housing boom. (More commentary below the graphs).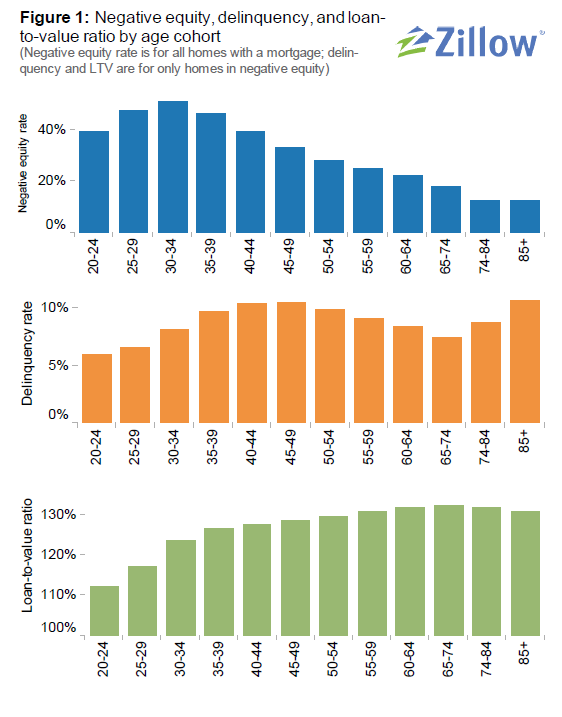 Being underwater on a home is a problem for any owner, but one could argue that it's particularly troublesome for young adults who are still early in their careers. It means you can't sell your house and move for a great new job -- at least without taking a significant financial penalty.
Here's the (faintly) good news for Millennials contained in these graphs: while more of them are underwater on their homes, they're not as deep underwater as the Gen Xers and Boomers who also made bad housing investments (as illustrated in their loan-to-value ratios). Perhaps as a result, Zillow argues, young adults are doing a generally better job keeping up on their mortgage payments. They don't necessarily see their houses as such bad investments that it's time to cut their losses.
There is some reason to think that Zillow might be overestimating how bad the situation is for borrowers overall. They find that 30.9 percent of all mortgages are currently underwater, which is a good bit higher than CoreLogic's more widely estimate of 23 percent. Nonetheless, the trends they illustrate show us yet another way the great recession was disproportionately awful for the young.