How the Great Recession Proved, Beyond a Doubt, the Value of a College Degree
The U.S. economic recovery has been anemic by almost any standard. But for Americans with just a high school degree or less, it's been worse than anemic. It's been non-existent.
This week, Georgetown University's Center on Education and the Workforce published a new report breaking down job growth during and after the Great Recession by education levels. And as it illustrates in the graph below, employment has been essentially flat since January 2010 for adults who never went to college. (The center's analysis only extends through February, but according to similar data from the BLS, employment has barely budged for the demographic since).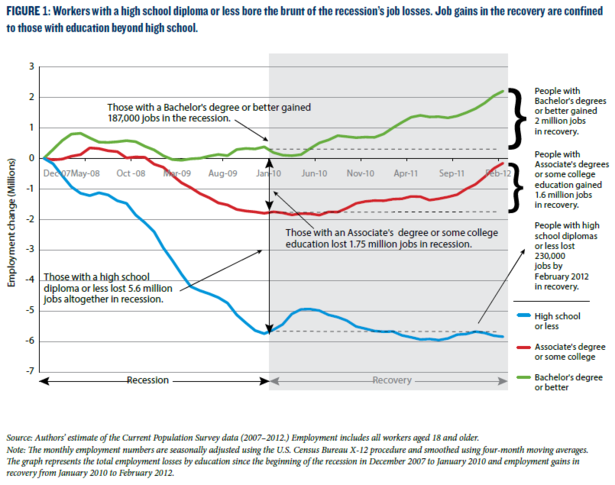 Here's what that translates too: For about 43 percent of Americans over the age of 18, there has been no growth in the labor market since it bottomed out more than two years ago. To get a job, you've essentially had to hope someone else lost or left theirs.
For college attendees, it couldn't be a more different story. During the downturn, Americans with a bachelor's degree or higher gained jobs. Employment for those with some college or an associate's degree is back to around its pre-recession level. If the whole recovery had a job posting somewhere on Craigslist, it would say: "Some college required, bachelor's preferred."
This is really the extension of an old trend. As the report later notes out, the job market for high school grads has basically been on ice since 1989. The recession just cut a huge, frost-burned chunk out of it.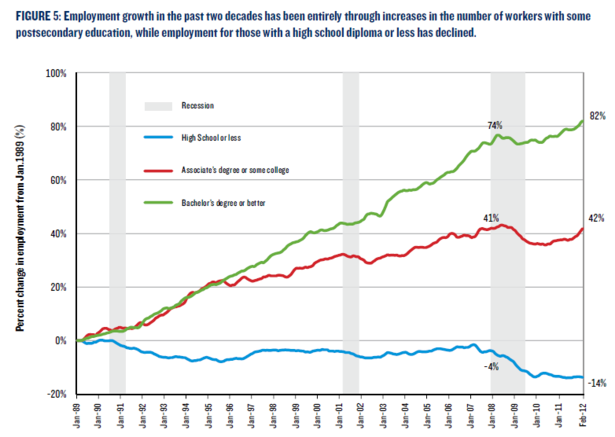 This isn't to say college grads have been unaffected by the downturn -- unemployment has risen, and many are working in jobs that don't require their skills. The premium for a college diploma (graphed below) has stayed roughly the same since 2000, even as wages for the less educated have fallen. But right now, a degree is pretty much the only reasonable insurance policy you can buy in this economy.